Day 1: Plitvice Lakes National Park
I woke up this morning 30 minutes before my alarm at 6:15am. I felt back to normal and hungry. I quickly took a shower, shaved for the first time on my trip, and put in my contacts for the first time in days. Already feeling much better. I grabbed breakfast from my hotel lobby before leaving for the park.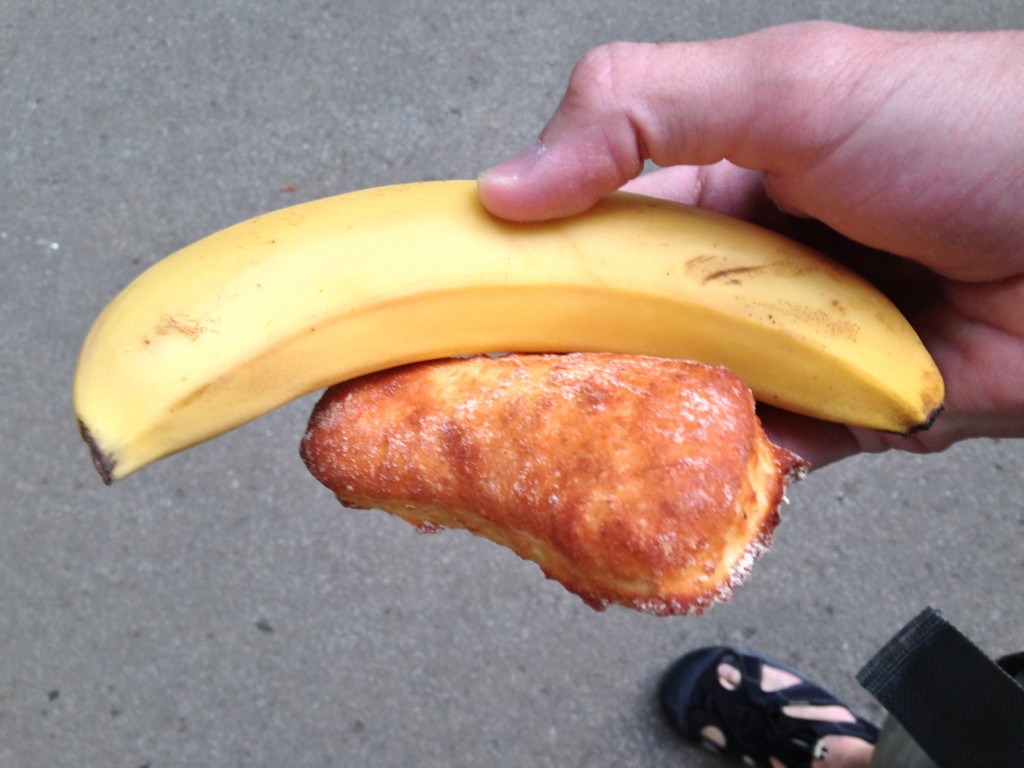 I got to the ticket counter at 6:50am, and although they weren't open until 7:00am, she let me go ahead and buy my ticket now. I walked past the unmanned entrance station into the park.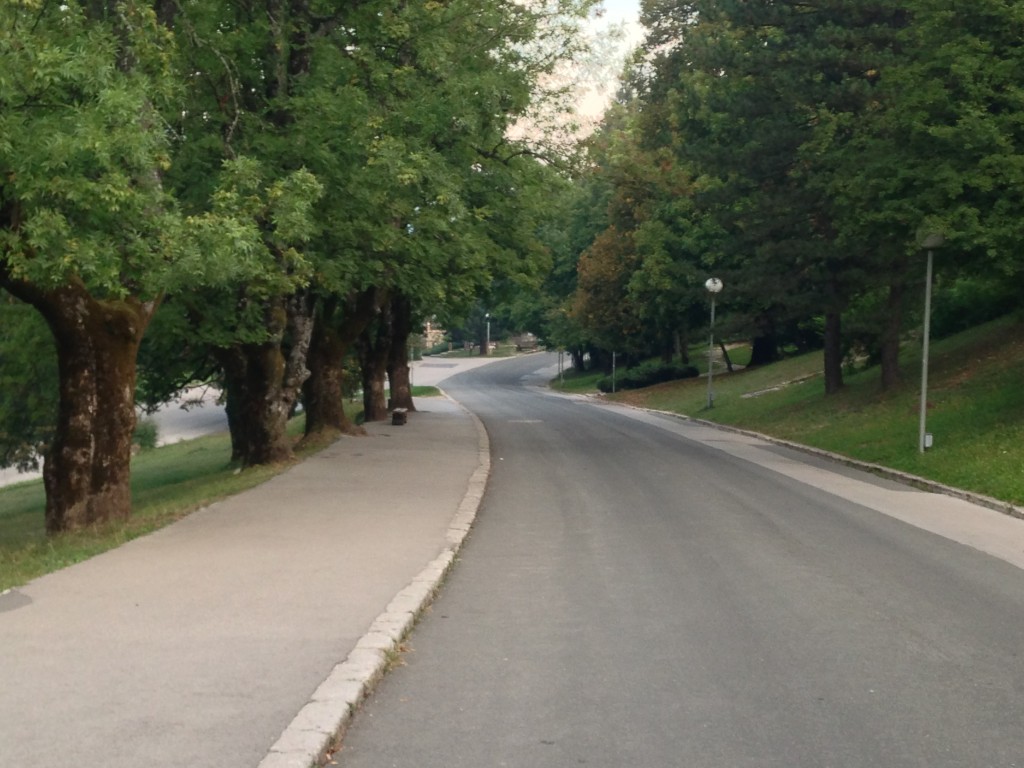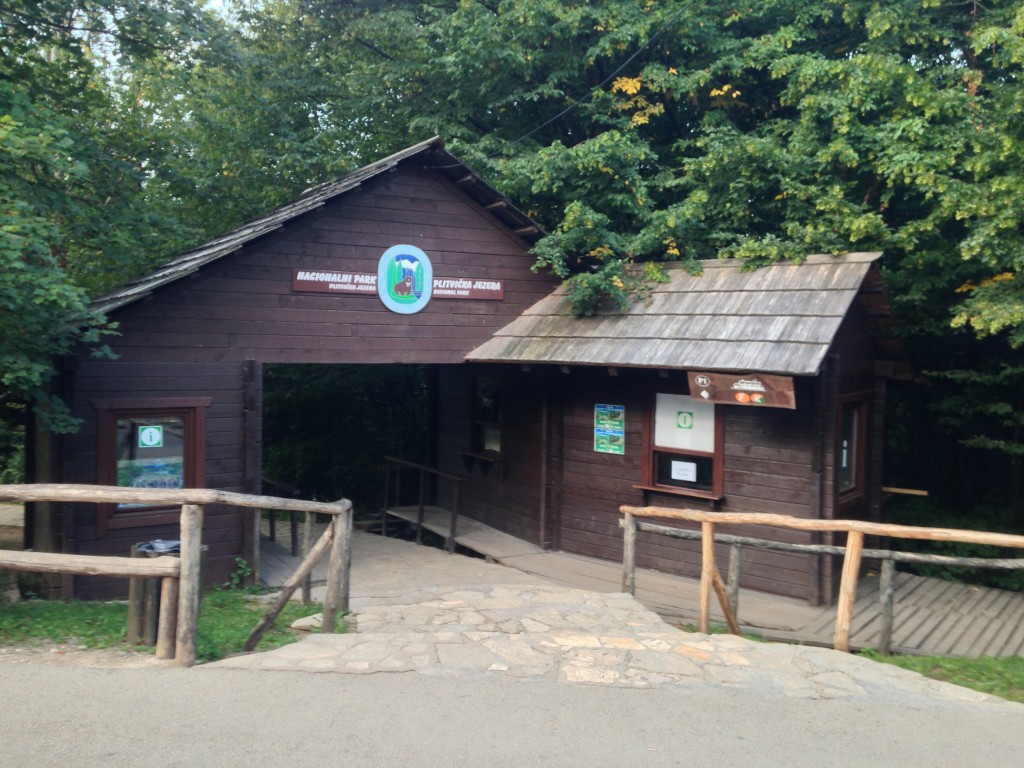 I started by hiking along the eastern edge of Lake Kozjak towards the Lower Lakes. No one else was in sight as I watched the sunrise above the hills. In addition to the waterfalls, this park is also known for it's bears, so I kept my eyes out for them.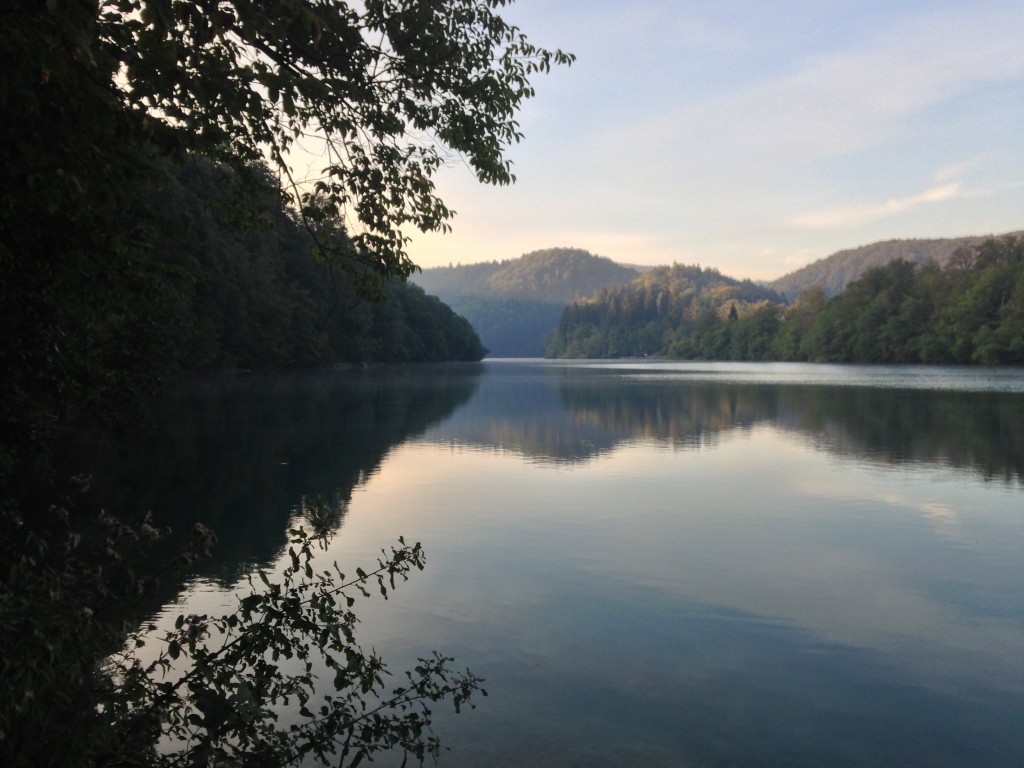 I crossed one of the many wooden boardwalks and hiked up to see the aptly named Big Waterfall – 250 feet tall. 45 minutes after leaving the ticket booth, I finally come across other people on the trail.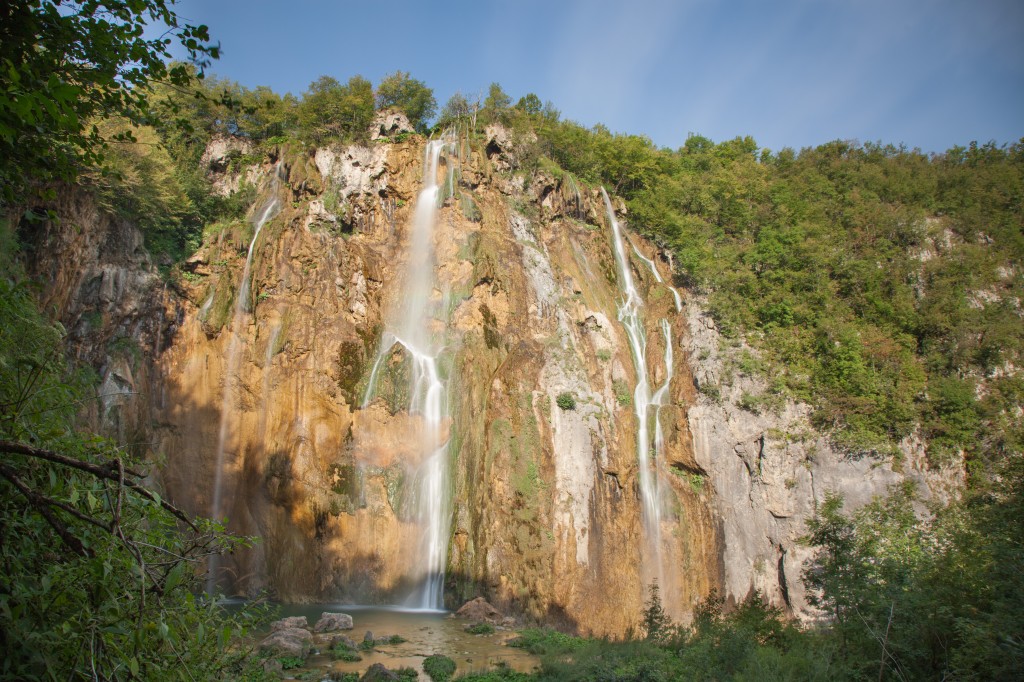 I then went back in the direction I came, coming across a German couple who both had tripods and were patient with which pictures they took. In talking to them, they said they couldn't move on this boardwalk yesterday afternoon, so they woke up earlier this morning. Gave me an idea of what to look forward to.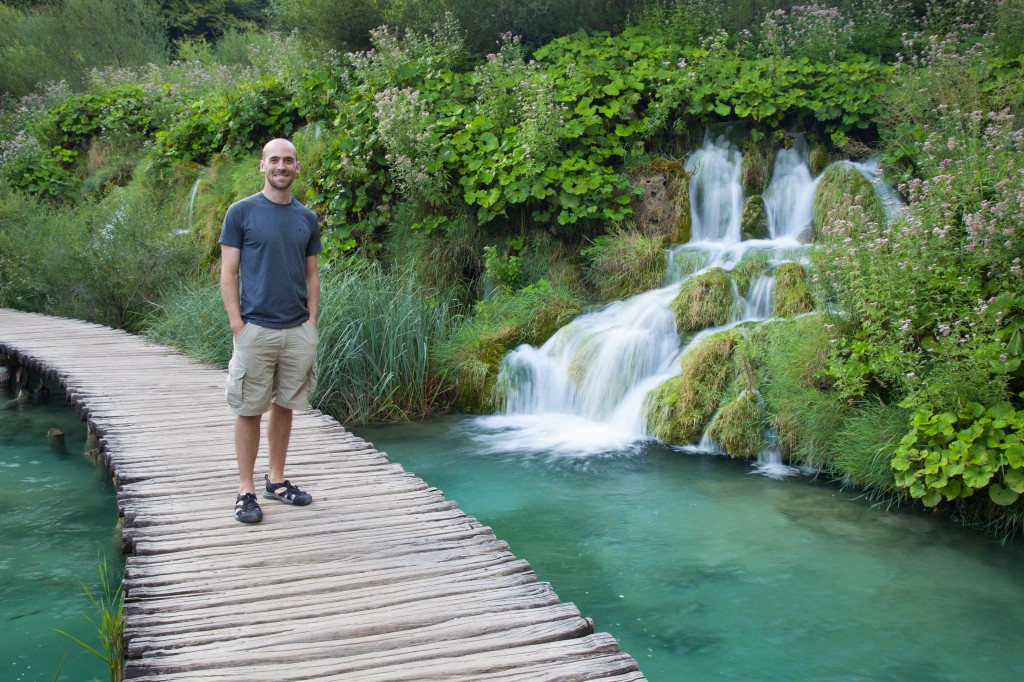 Continuing up the east side of the Lower Lakes again, I captured some more scenes. The trout seemed to move in slow motion.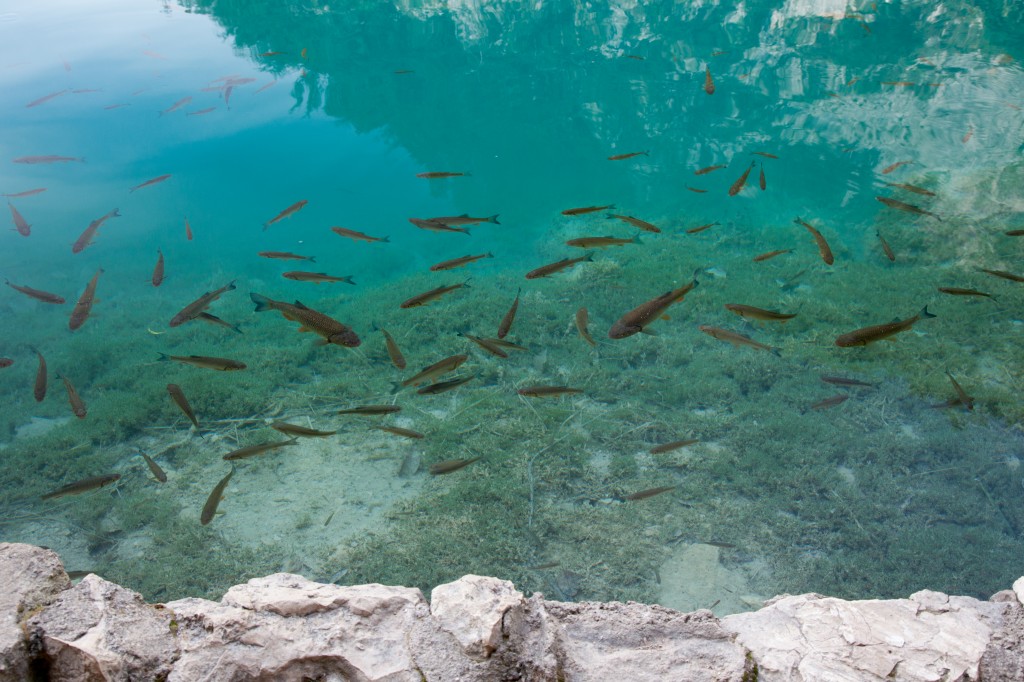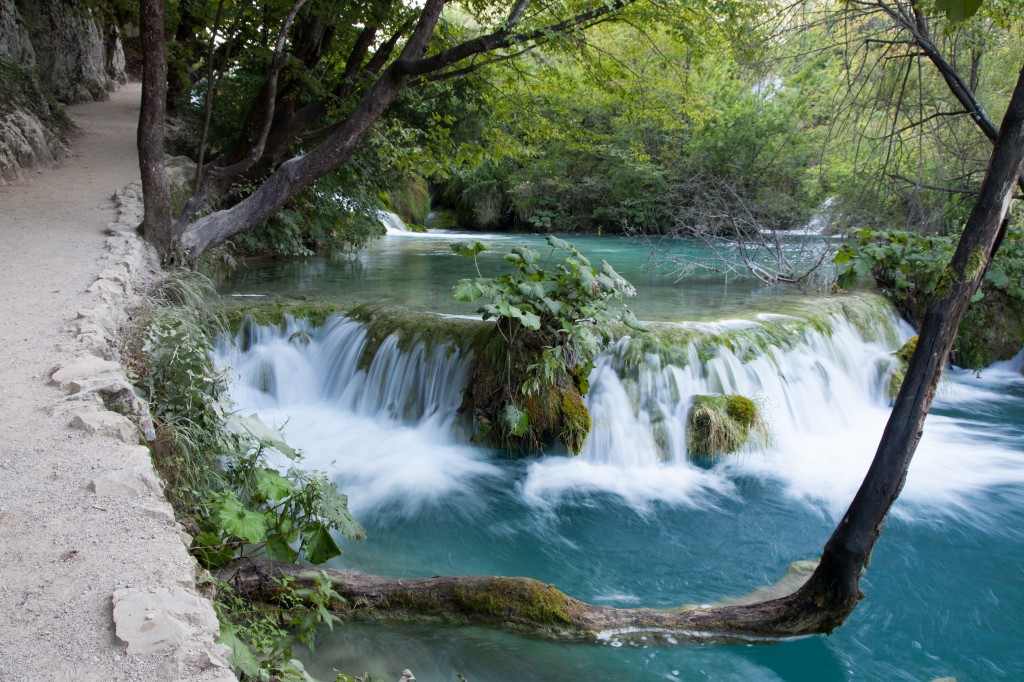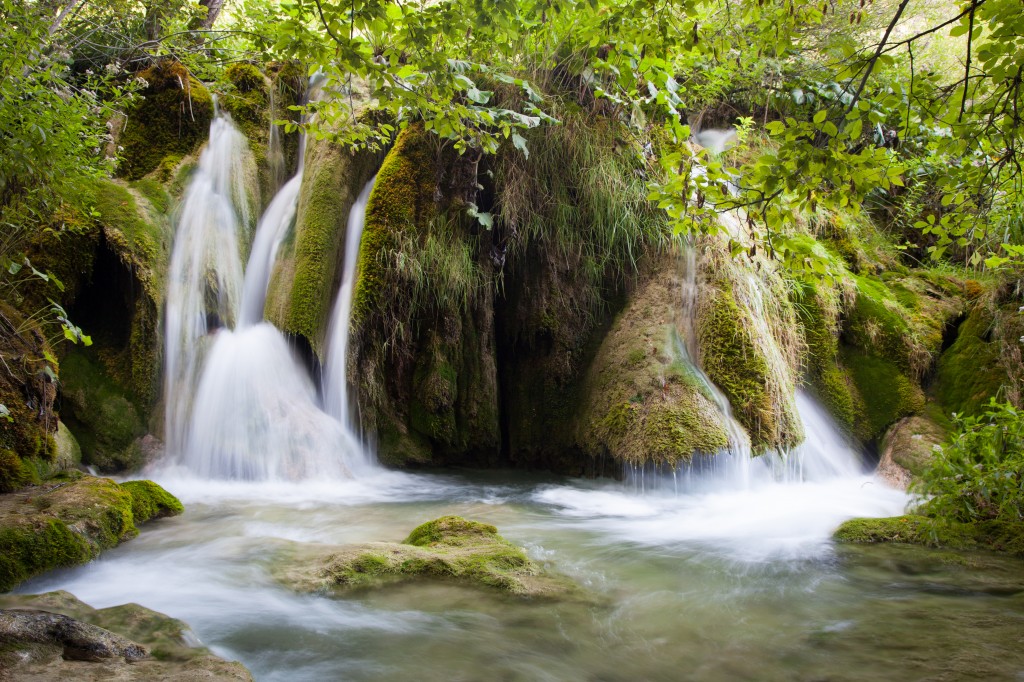 I then made my way to the Upper Falls, which has more impressive waterfalls. I hope to get more pictures like this tomorrow.
I grabbed a lunch at a park restaurant which wasn't very good. Good thing it was cheap.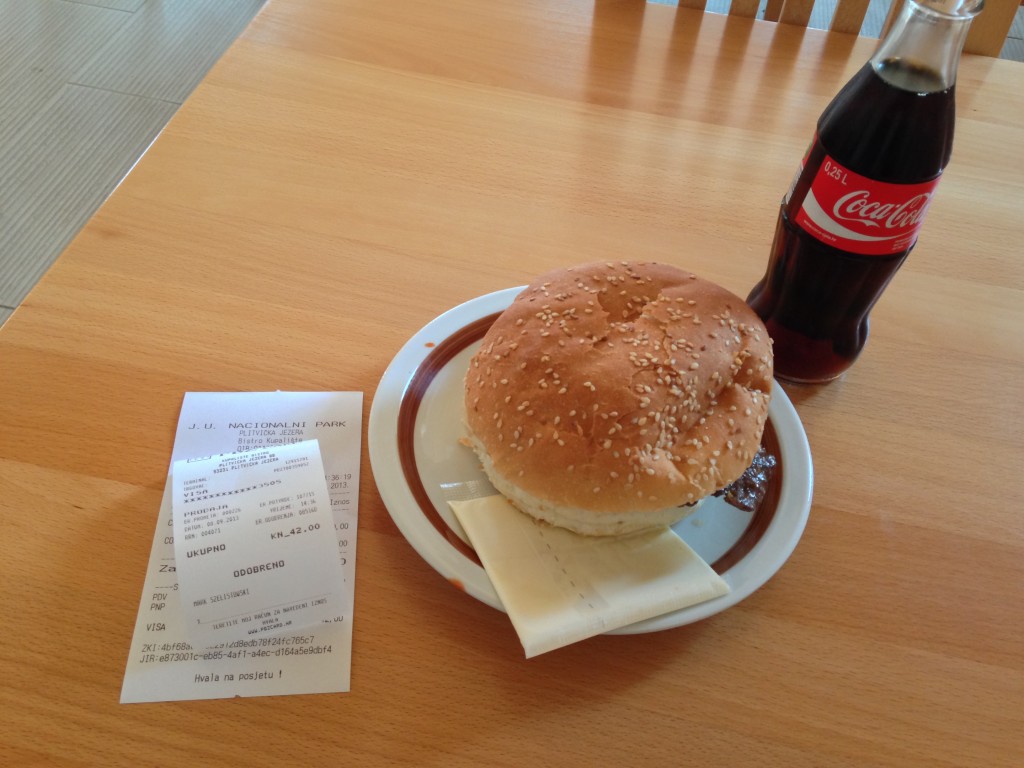 I went back to my room to rest a bit. In walking back, I realized how crowded it got.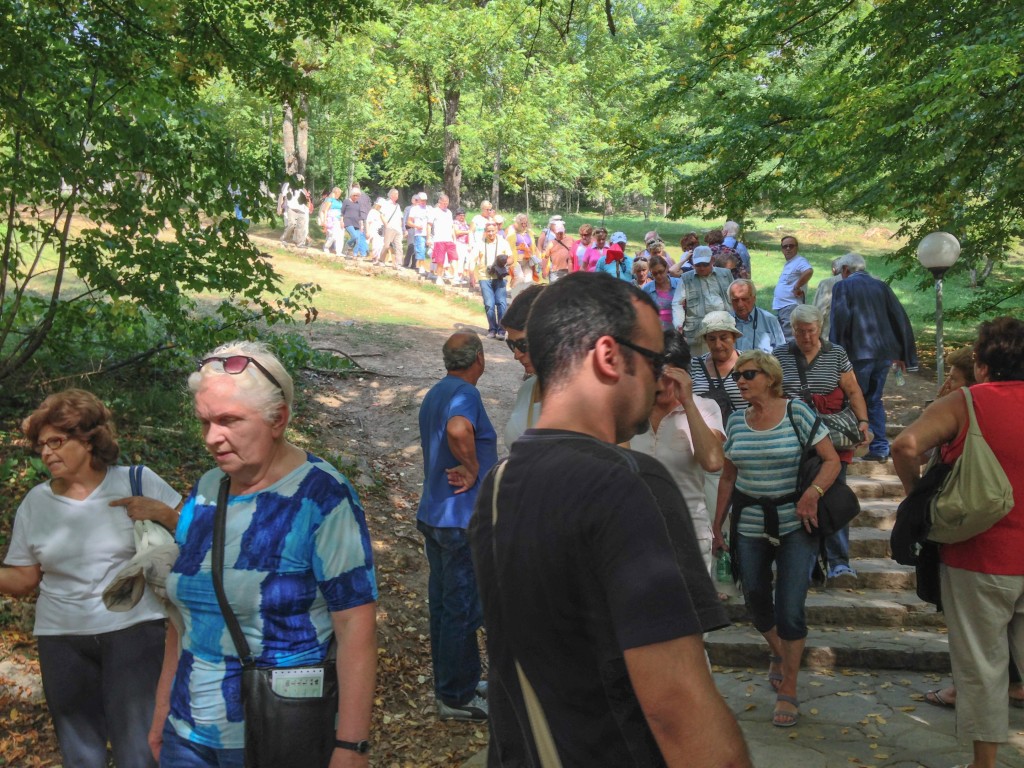 After resting and waiting for the crowds to decrease, I went back out to find out where this picture was shot from:
I looked for hours and saw where they took it from, but it looked inaccessible. I asked a park worker, she said that it was taken from a rock face and I had to get a written permit through the park offices. :/ Oh well – it's a great shot though.
I did manage to get up high and take a picture of the boardwalk I crossed in the morning.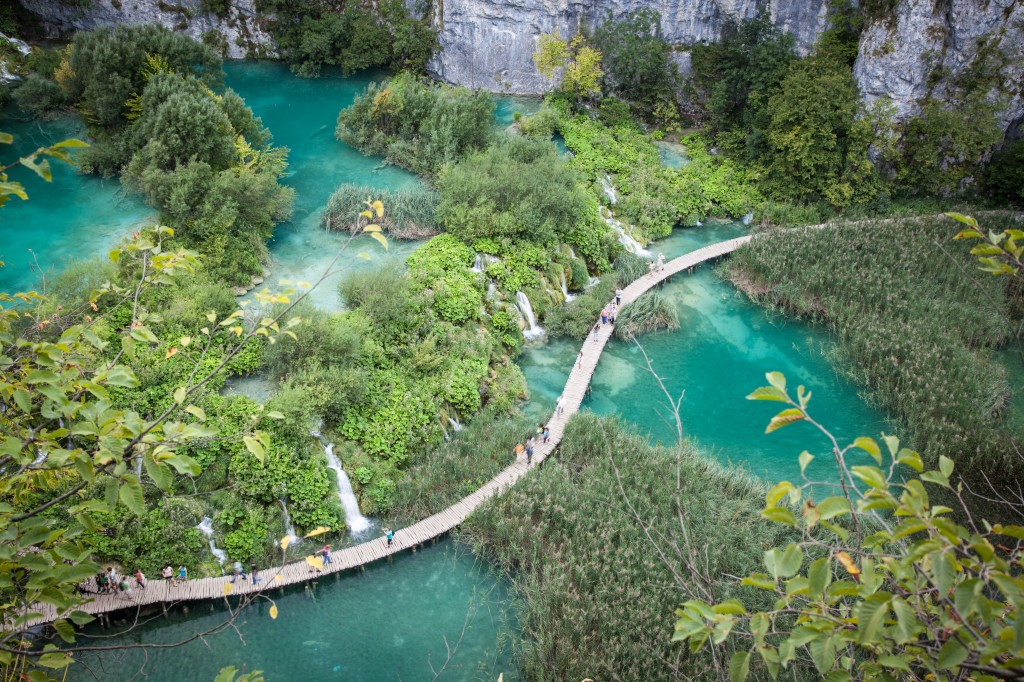 For dinner, I ordered the same trout I've been watching swim around all day, with a side salad (not shown below). I've never had a European salad that has a substantial amount of lettuce, and this one was no exception.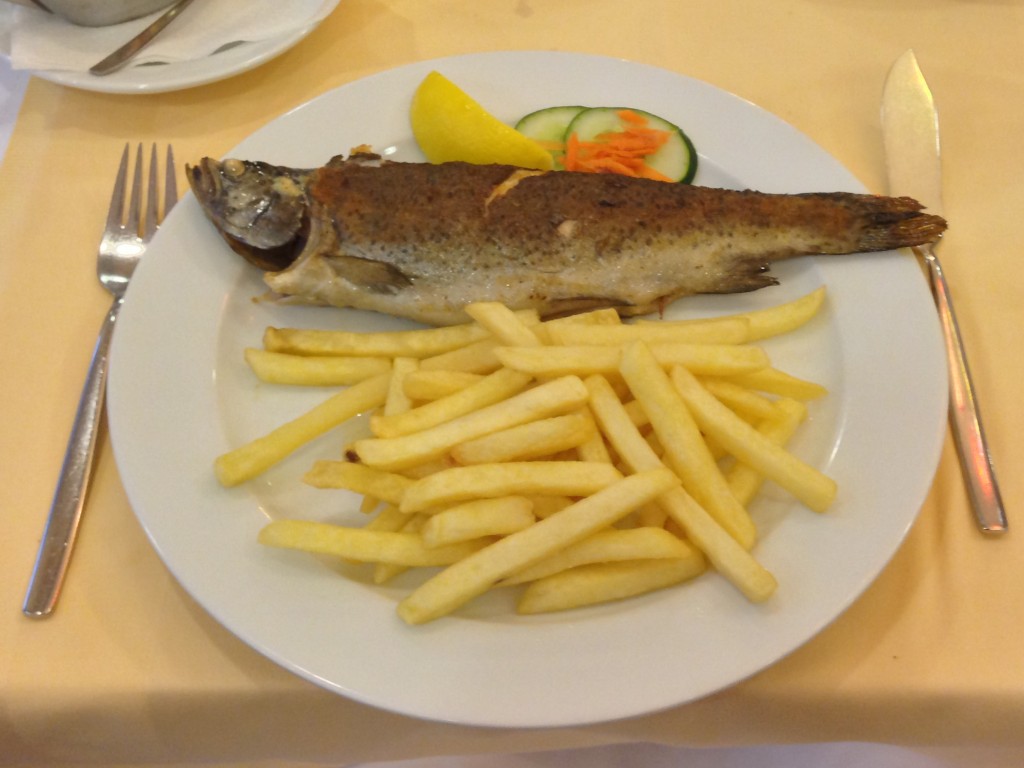 I was expecting fish fillets, not a whole trout on my plate. Memories of returning from fishing in the bay and my dad filleting fish on top of newspaper on our front lawn with our labs (Dixie, then Casey) watching closely filled my mind. I dug in.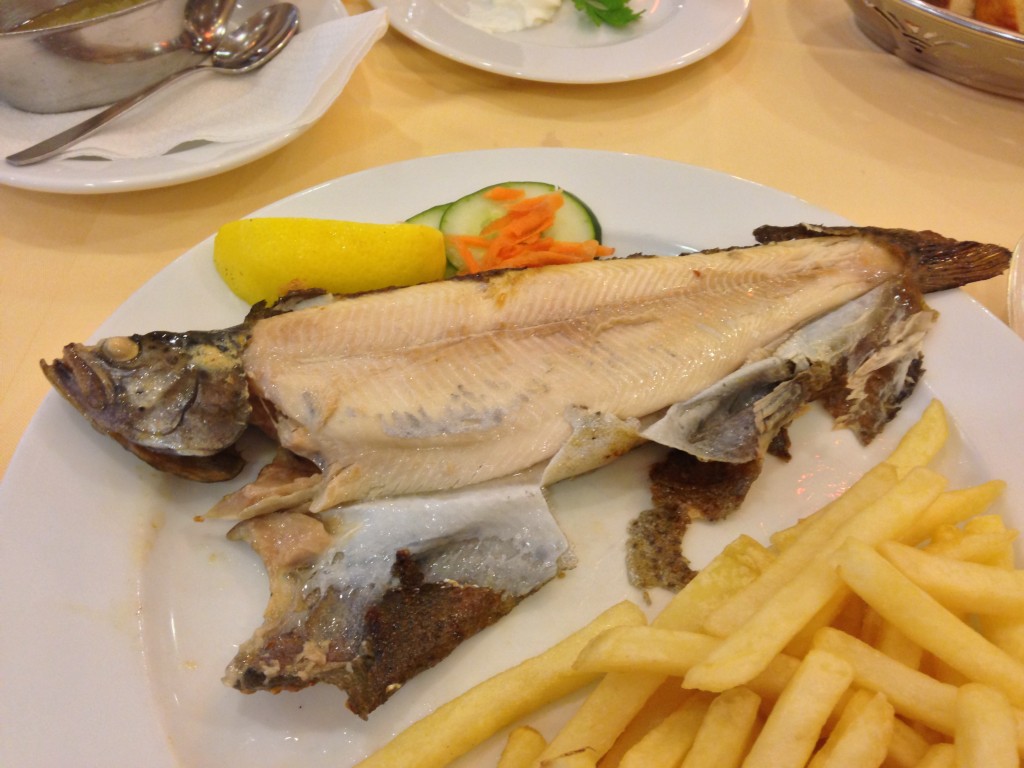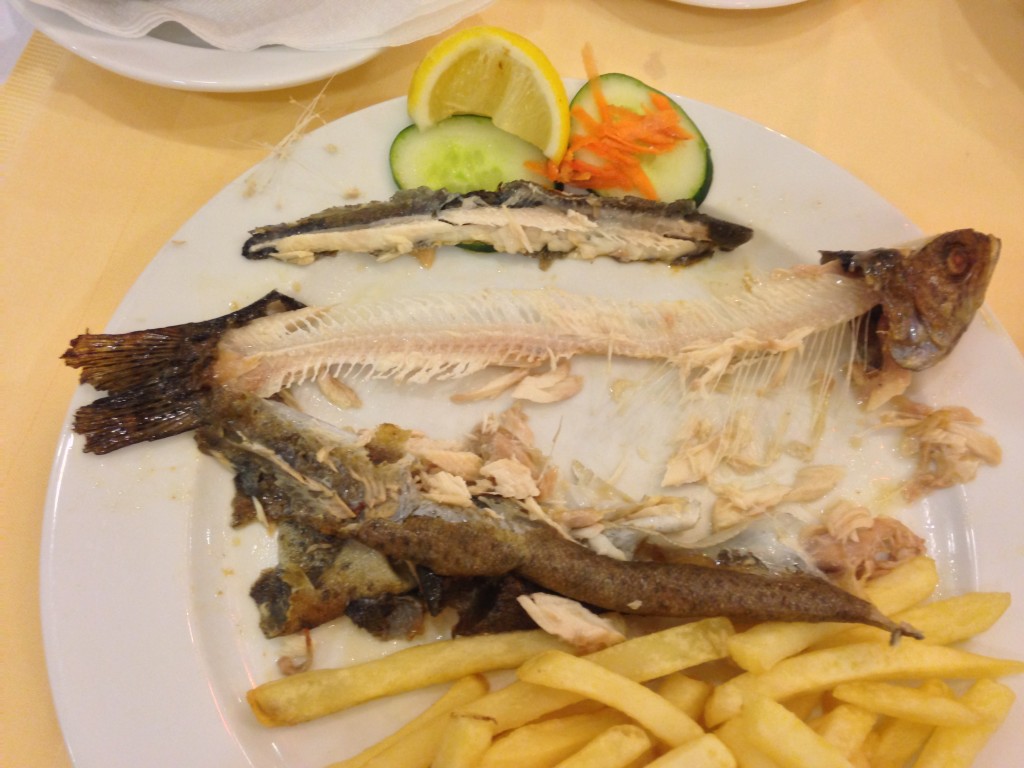 For desert, I ordered Fruit Flambe: bananas and peaches flame-heated in an orange-lemon juice with sugar, butter, rum, Maraschino, and with a side of ice cream. I took a video of my waitress making it, but it will have to be uploaded when I have a faster internet connection.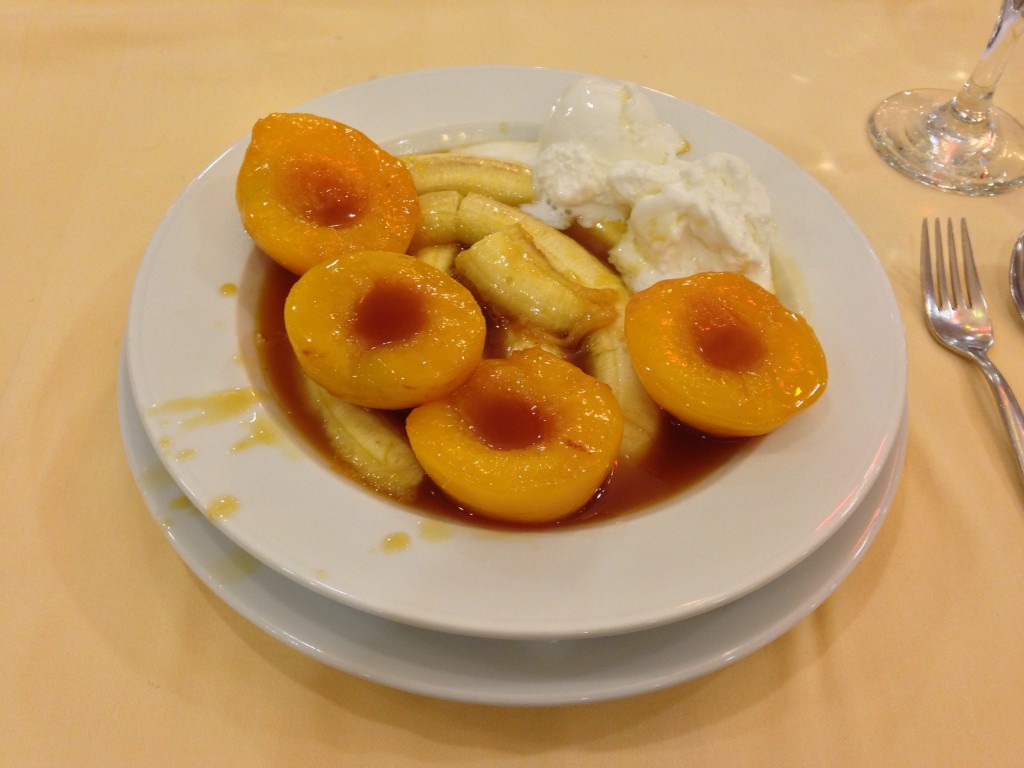 After the waitress prepared my desert, the Asian couple sitting next to me asked what I ordered and I showed them. Five minutes later, the same waitress took their order and they ordered the same desert. I have a feeling she made a lot of those that night.
As I was finishing my meal, a mid-20s Canadian couple sat on the other side of me. I couldn't help but overhearing. For the first time on my trip, I realized that one of the benefits of traveling internationally is being able to tune other travelers out. If I can't understand what's being said, their conversations just becomes background noise – can't really do that with English.
Now its off to sleep and hopefully beating the crowds again tomorrow morning.
---
---