Initial planning for Thailand and Cambodia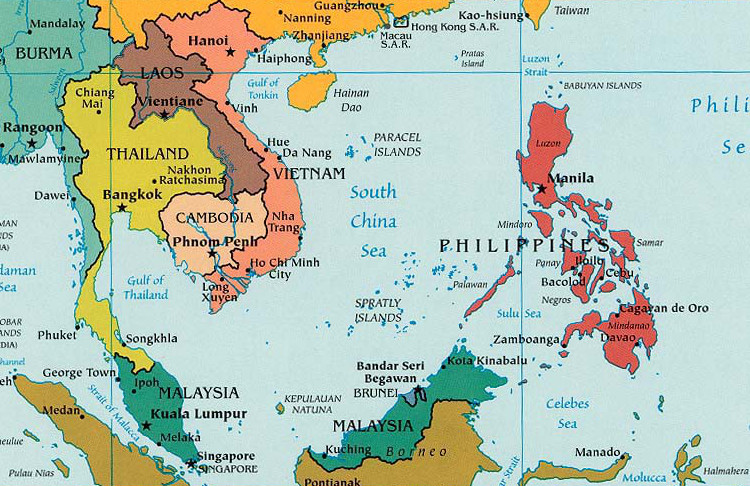 Between my birthday and Thanksgiving, my trip will be here before I know it. I booked my initial flight to Bangkok on October 3rd and since then I've managed to do some good planning.  I know which cities I'm going to and for how long and (with the exception of Bangkok) most of my accommodations are booked. This is what I'm looking at so far: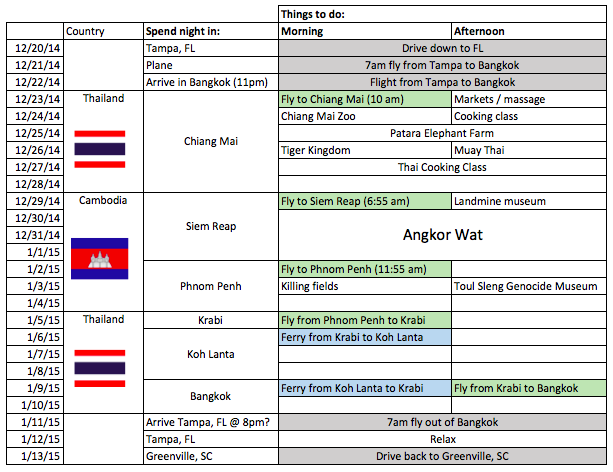 Similar to how I planned my trip last year to Croatia, Bosnia, and Slovenia, I like to put my planned route into a spreadsheet and then type in what I want to do on each day – makes planning a lot easier.
Here's a rundown of the cities I'll be staying in:
Chiang Mai – Located in hilly northern Thailand, this backpacker haven provides the perfect blend of low prices and phenomenal cultural experiences. Some people come and never leave.
Siem Reap – Best known for being near the temples of Angkor Wat, this area has turned into a major tourist hub in Cambodia. This town has exploded in recent years and the Siem Reap of today is much different from 20 years ago.
Phnom Penh – Cambodia's capital city has surprisingly few tourist attractions; the main ones focus on the Cambodian genocide that occurred in the late 1970 where over 1.5 million people were killed.
Krabi – A coastal city that has world famous rock climbing and is used as a port to access Thailand's popular island beaches
Koh Lanta – One of the best all-around islands in Thailand. This small island has everything you'd need including beach bars with cocktails, snorkeling, kayaking through mangroves, and scooter rental for exploring the 18 mile long coast. Not known as a party island, Koh Lanta has a good mix of families and solo travelers.
Bangkok – Think about Las Vegas, but seedier. While the cultural landmarks are certainly there, this city comes to life at night.
---
In the upcoming weeks I'll finalize my remaining accommodations and do some historical research, especially on the genocide in Cambodia. Southeast Asia wasn't covered very well in my history classes in school so I'm looking forward to learning more about a culture I know very little about.
---
---