Travel day (updated, but boring)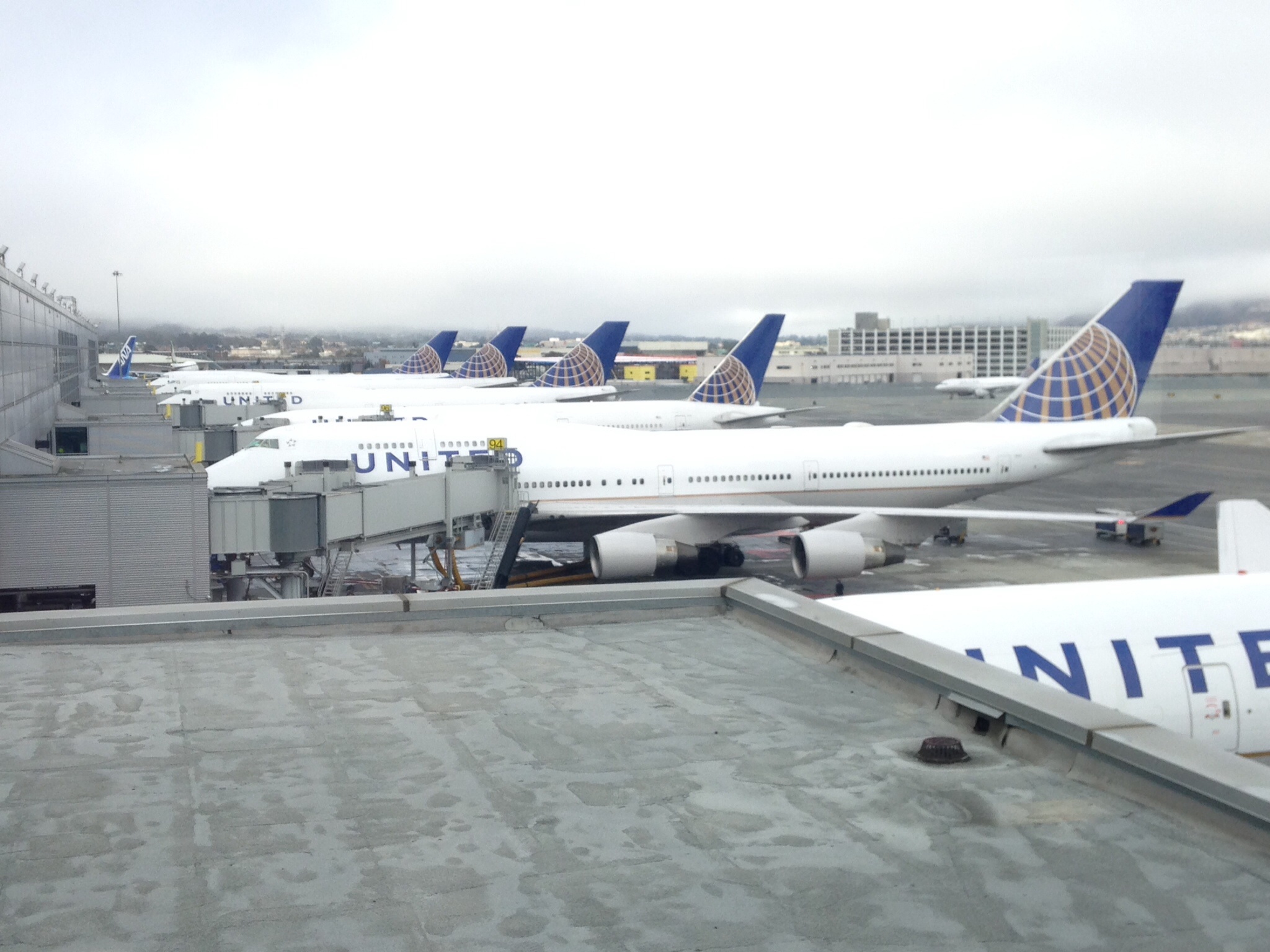 Too long, didn't read: Long travel day, United 747 is not recommended, arrived in Japan
My flights got changed again, the sixth time in 36 hours. The flight out of Greenville was cancelled again so the remainder of my flights were cancelled. It was assumed I wouldn't make the rest of my connections. Including my first class ticket from Chicago to Tokyo.
After being on hold with United Reservations for over an hour, I decided I would rather fly out of Charlotte than wait for Greenville which cancelled my flights two days in a row. I booked an economy ticket out of Charlotte. If all goes well, I should arrive in Tokyo at 5:00 pm local time Thursday (3:00 am eastern time). My new flight path is:
Charlotte
Washington DC
San Francisco
Tokyo
I quickly left work and went to my hotel to pack. My girlfriend Julie picked me up at 5:00 pm and after dropping the company car back off at work, we headed to Charlotte. We ate at Firehouse on the way there and arrived at the hotel at 8 pm and went to sleep.
I poorly anticipated how long the line would be at the airport. We woke up at at 3:45 am, left the hotel and arrived at the airport at 4:15 am. After arriving, I immediately realized I should have gotten there earlier. There was a long line of around 70 people before me, including a school group that probably had 50 pieces of luggage to check.
With a flight leaving at 5:50 am, I was starting to get anxious. Finally around 5:15 am, I got my ticket and checked my three bags through to Narita Airport in Tokyo. I ran past the crowded security checkpoints to an empty one near the end of the concourse.
Security was easy with only two people in front of me. I grabbed $200 out of an ATM and quickly walked to concourse A, getting there 10 minutes before boarding. I got there in plenty of time because the flight was still waiting on the pilots.
Being a regional jet, there wasn't much room for carry-ons. Luckily my camera bag wasn't pulled for storage underneath the aircraft. Having bought a new lens since my last trip, that bag probably has $7k worth of gear inside. I wouldn't part with it easily.
I made my flight, two days after my original scheduled flight, but there's no way my bags did. I have electronics (camera gear, laptop, etc), another t-shirt, contacts, and toiletries on me. Looks like I'll be doing some shopping when I get to Tokyo.
We landed in DC about 30 minutes late, but luckily my flight to San Francisco was in the same terminal. I arrived to the gate as they were boarding priority passengers. I quickly posted the first update to this post as I they were calling the zone before me. I didn't have much time to get something to eat, but looking back I wish I would have grabbed lunch. It will be around 3 pm before we land and I've only had two granola bars that I grabbed in Charlotte.
The flight to San Francisco seemed like it took forever. Luckily there was only one other person in my row so we had an empty seat between us. The economy plus seats had plenty of leg room.
Not too impressed with United though. No meal service which is understandable, but no snacks. On a 5+ hour flight.
Updated at Thursday at 3:30pm eastern time:
We arrived in foggy San Francisco on time so I had some time to grab a bacon cheeseburger before my next flight to Tokyo. My flight ended up being delayed and we took off 2 hours after the scheduled time.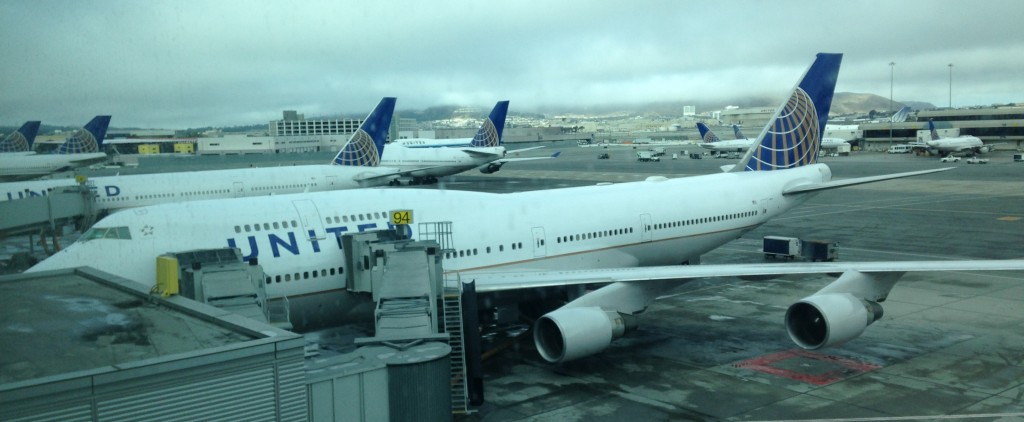 The flight to Japan was on an old United 747. There weren't any personal TV screens on the seat in front of you and there wasn't any way to charge electronics. I realize this sounds really 'first world spoiled', but these would be nice on an 11 hour flight. I'm sure the first class cabin had them.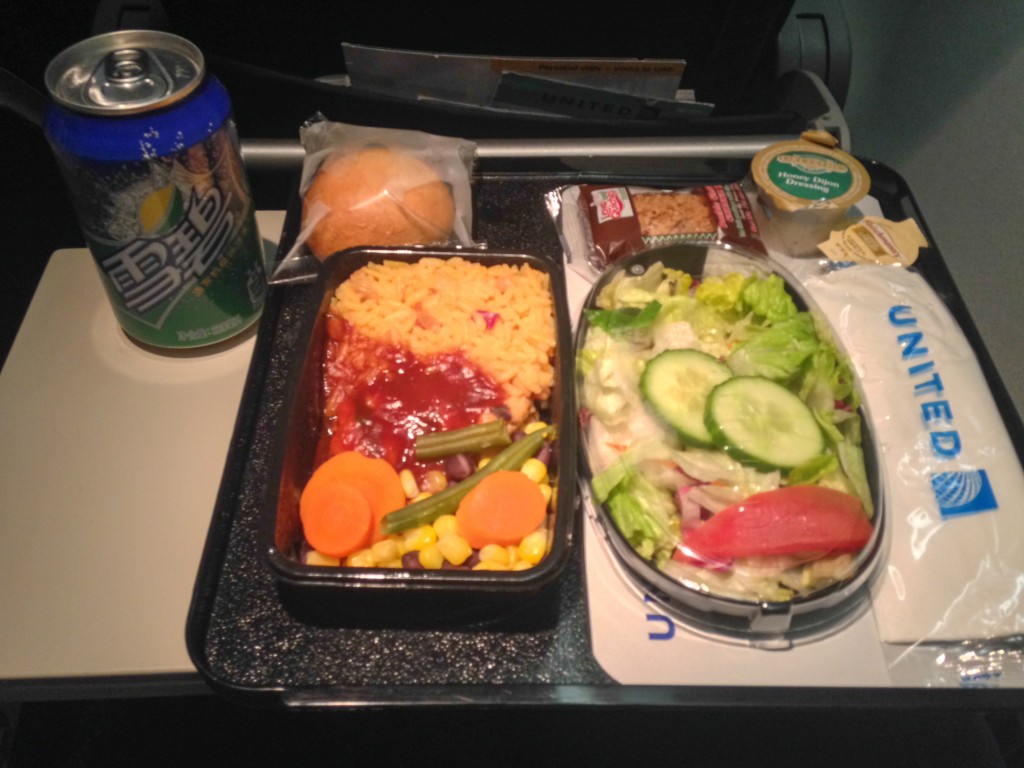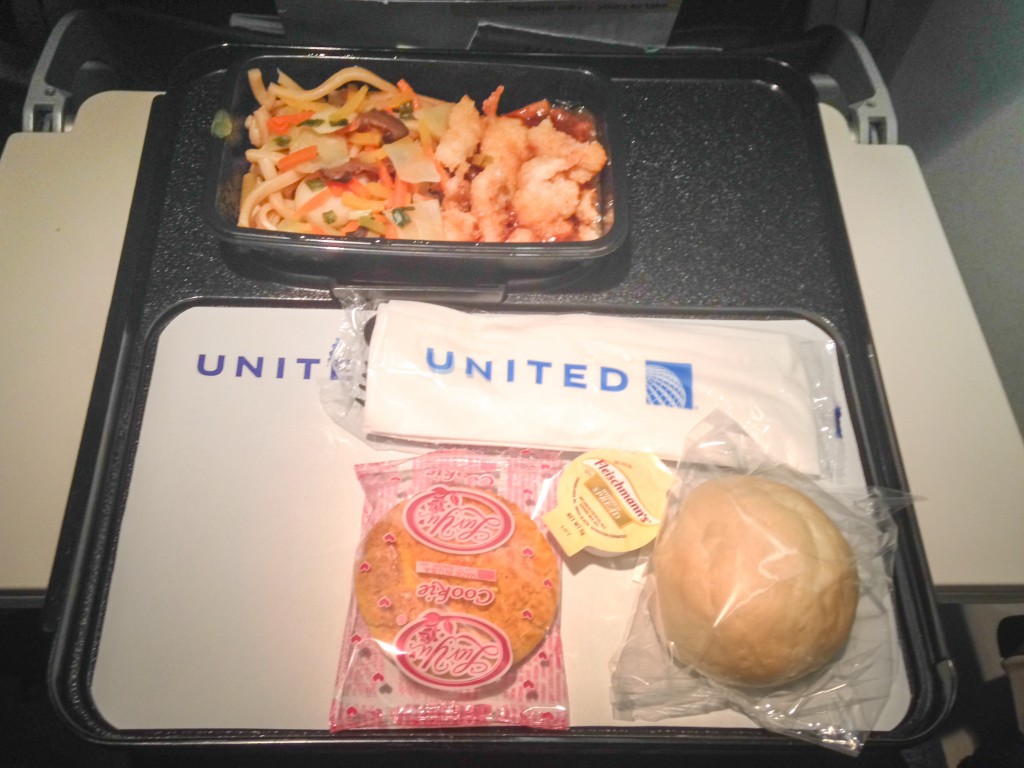 I passed time on the flight watching a movie, sleeping, and on my iPad (which has been perfect for flying).
The flight arrived in Narita airport at 6:50 pm, which was late due to electrical problems. I first went through immigration and was issued a residence card. I then picked up my bags in baggage claim and passed through customs without any problems.
A coworker, Saki, was waiting for me after customs and I found him holding a flag with my company's name on it. Finally arrived with all my stuff – I feel better now.
---
---