Bled: Vintgar Gorge and Kozjak Waterfall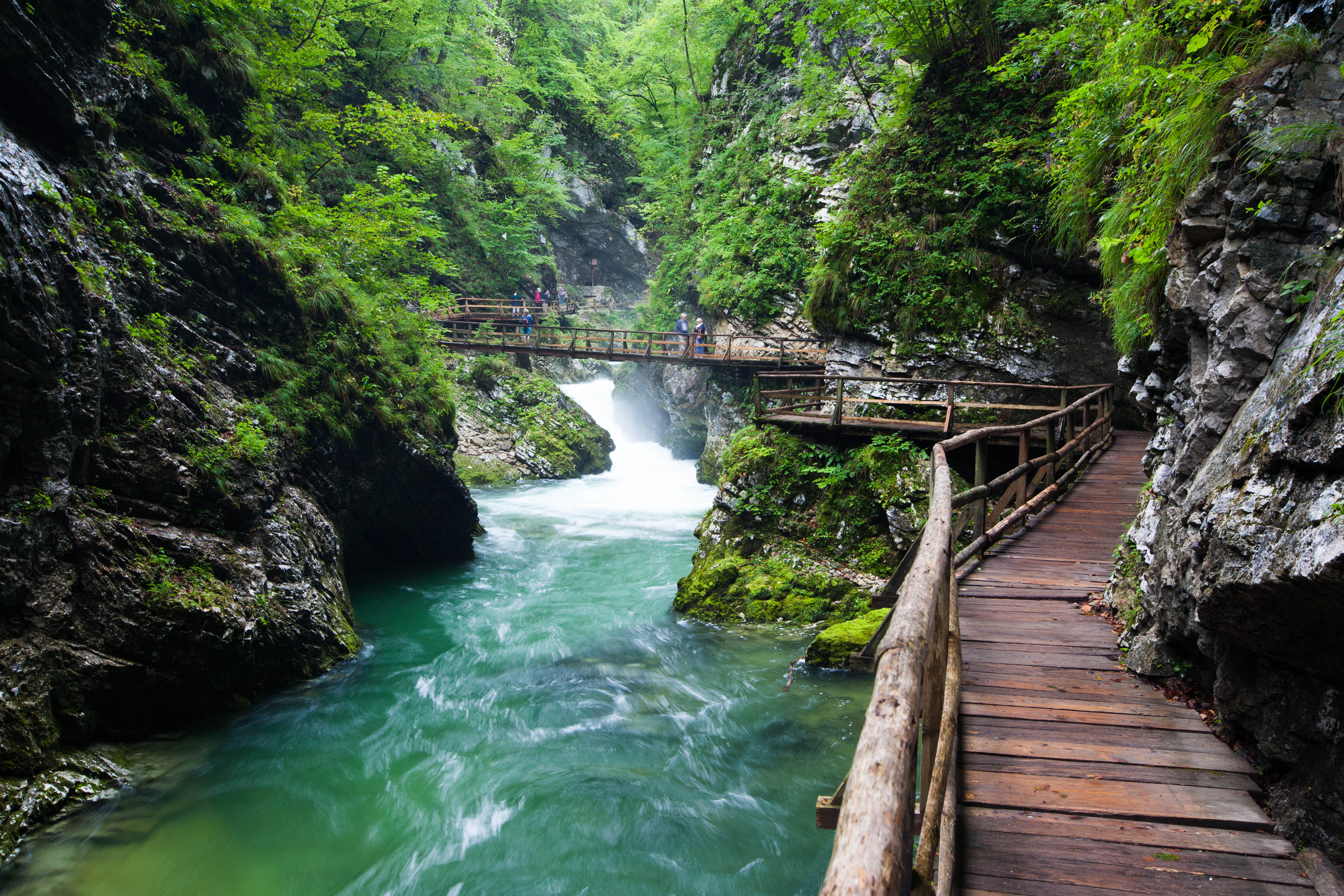 I woke up early this morning to hike to an overlook for sunrise shots. I didn't wake up quite early enough, but I still leave my room around 7:00am. But I'm quickly disappointed when I see that the hostel's van has blocked my rental car in.
I call the phone number and after the second call, someone sleepily picks up. I tell them that I'm blocked in and that I need to get out. He says he's 45 minutes away. Not wanting to waste any more time, I just walk from my hostel. While I just wanted to get some pictures, I could have been trying to drive to the airport for an early flight and that could have caused me to miss it. Not a huge fan of this hostel or the people running it.
I think I've decided that next time I travel like this, I'm just going to spring the money for hotel rooms. While it would easily double the cost of my lodging, it would be worth it to not put up with stuff like this. And I'm not the partying type like most people in hostels; I just stay there because it's cheap. I'm more interested in waking up early to get pictures than staying out late to drink.
After walking I get to the parking lot of the trailhead 45 minutes later. I quickly discover that hiking with photography gear isn't much fun and there's a big difference between 45 minutes on a flat trail, and 45 minutes climbing stairs and tree roots.
I get to an overlook at the halfway point and decide the weather isn't worth it to continue to the top. I take a few pictures then head back down. I do manage to get another picture of the island a bit later, but hopefully I can come back another day for a better one.
The weather was like this ever since I arrived in Bled
With a couple of hours to kill before meeting for paragliding at 12:30pm, I pick up my car (now that the van moved) and head to Vintgar Gorge. This natural gorge is a mile long and only 10 minutes outside of Bled by car.  Similar to Plitvice National Park in Croatia, there's wooden boardwalks taking you over the river and waterfalls. It offers some pretty views and the overcast skies worked in my favor for the pictures.
I head back to my hostel and grab some lunch then park my car downtown closer to Triglav Adventures. I walk in 30 minutes early and the guy working the front desk tells me that the weather isn't good for paragliding. It's not hot enough and the sun isn't out, so rather than riding the thermals, we'd just go for a 5 minute flight – not really worth it. He says to come back tomorrow at 9am.
Chicken kebab – €9 including 0.5l of Coke
Disappointed, but not wanting to waste any time, I head out in search of a waterfall named Kozjak. I only have directions from the name of a town so I type it into my GPS and it says 90 minutes away. Not having anything else to do, I set off.
The GPS takes me an hour through windy roads in the Slovenian mountains. Every 10 minutes or so, the woman giving directions in the GPS keep saying "Recalculating…", but there clearly wasn't anywhere to turn. After some time, I get to an opening and the roads get straighter and the speed limit increases to 80 km/hr.
I didn't realize it until I get there, but this town is actually quite close to where I was Thursday after crossing Vršič Pass and heading into the valley, except this time I drove through another valley to get there. With a little bit more planning I would have realized this earlier, but the drive did pass some good views; there are worst places to waste time.
I park in a small gravel lot and walk the 20 minutes to the waterfall. Luckily this hike was short and flat. As I get closer, I follow the boardwalks that are attached to the sides of the rock hanging 15 feet above the river. It wasn't too terribly high, but there weren't any handrails so I took my time. The shoes I brought were my Merrell trail running shoes which strangely enough don't offer any traction at all.
Rounding the corner, I see the waterfalls and the emerald pool below it. It's hard to tell from the picture, but the waterfall is almost 50 ft tall and if the weather was better, I'm sure people would be swimming in the large pool below it.
Satisfied with the pictures I took, I head back to my car and decide to follow the Vršič Pass back to Bled. The skies clear up a bit so I stop for some more pictures. This time I'm stopped by sheep walking in the road.
What a cool place to play soccer!
I went for a bounce on this for a bit
I returned to Bled and got some pictures of the lake before I returned to my hostel.
I started gathering my things as I have to check out tomorrow morning – I'm spending my last night in a private room of a different hostel because I have to wake up at 3:30am on Sunday for my flight.
---
---