Trip to Mt. Fuji and Kawaguchiko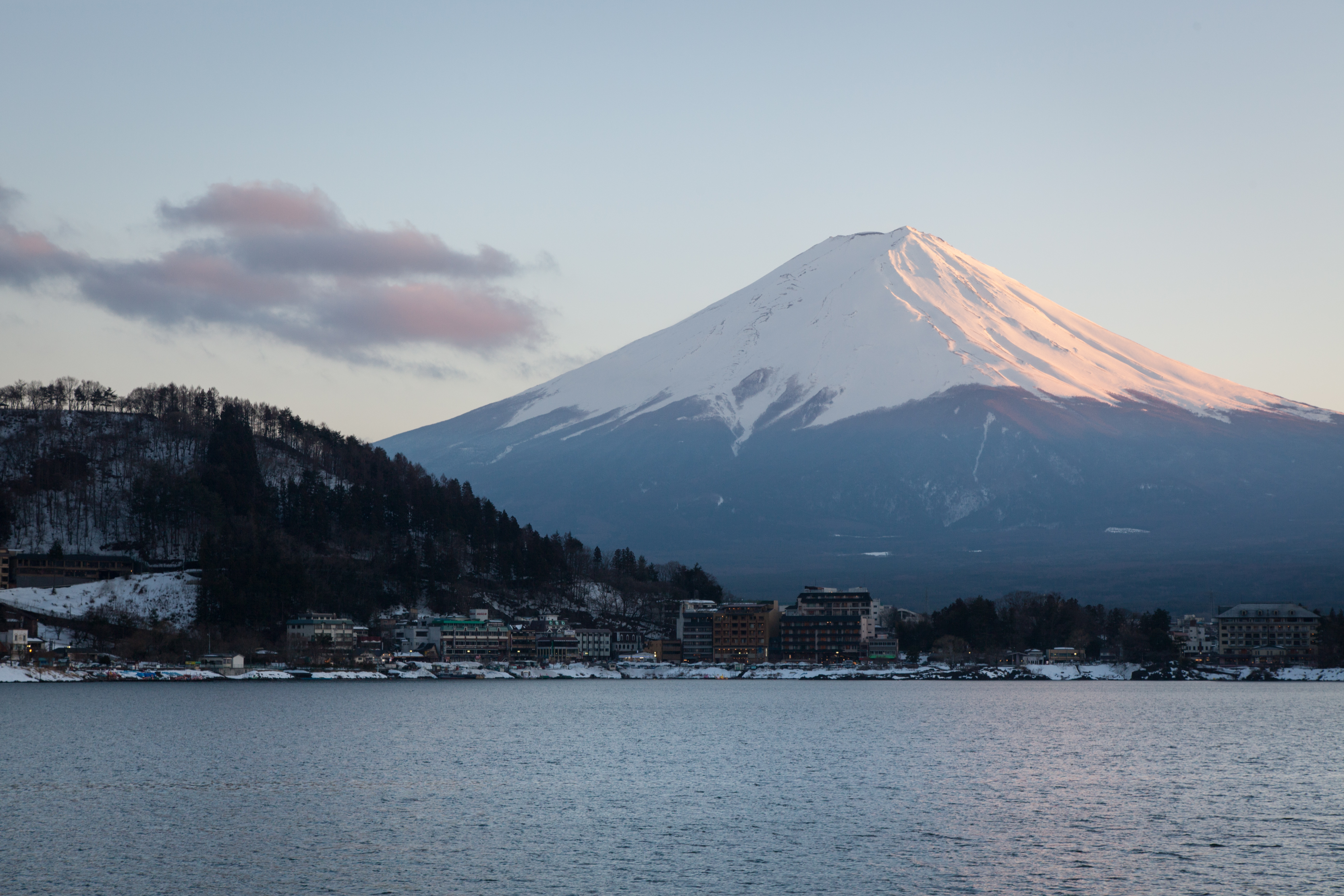 After checking the weather forecast, I decided to spend Saturday night near Mt. Fuji and return on Sunday. One night in a hostel costs 2700 yen, whereas a one-way train ticket costs 3000 yen, so I might as well spend a night there and make the most of it. Plus the weather looked promising. An overview of the Kawaguichiko area is below; I didn't go to all of these places, but wanted to point them out. Mt. Fuji is located towards the south.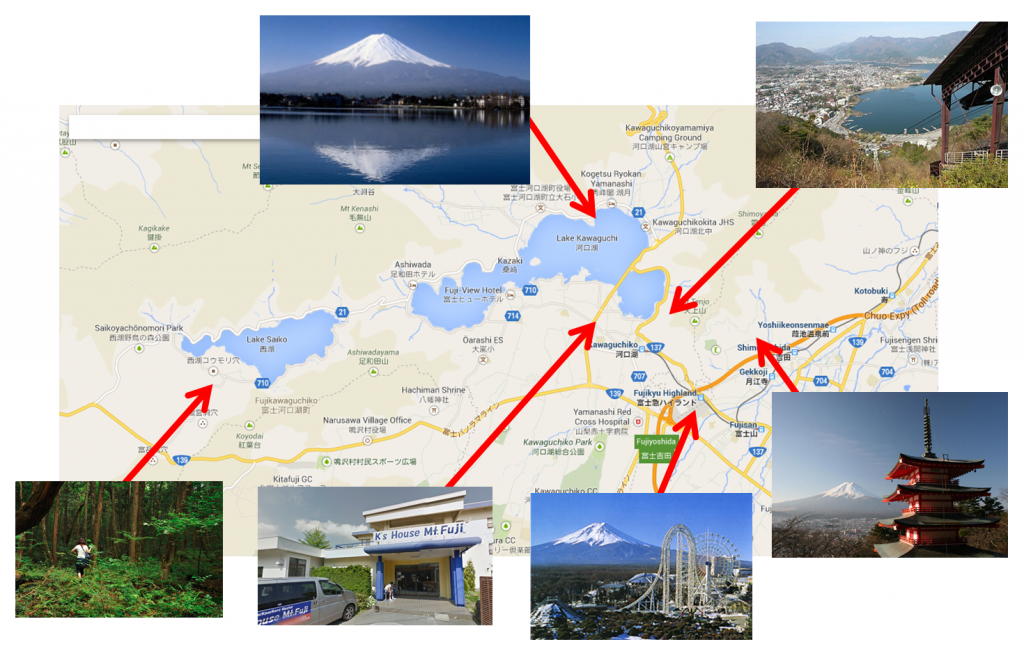 Starting at the bottom left and going counter-clockwise is Aokigahara (known as the suicide forest – saving for another trip), the hostel where I stayed (K's House), a theme park near Mt. Fuji (skipped), Chureito Pagoda, Kachi Kachi Ropeway (cable car), and finally a look over the lake towards Mt. Fuji.
In order to arrive early, I woke up at 5:45 am Saturday morning and walked to Higashi-Fussa station (Higashi = east) to leave on the 6:51 am train.  The main train station near Mt. Fuji is Kawaguchiko station and it takes about 1.5 hours from my apartment. I grabbed a bento box at Hachioji station and enjoyed my cheap breakfast (370 yen) while looking at Mt. Fuji approaching out the window.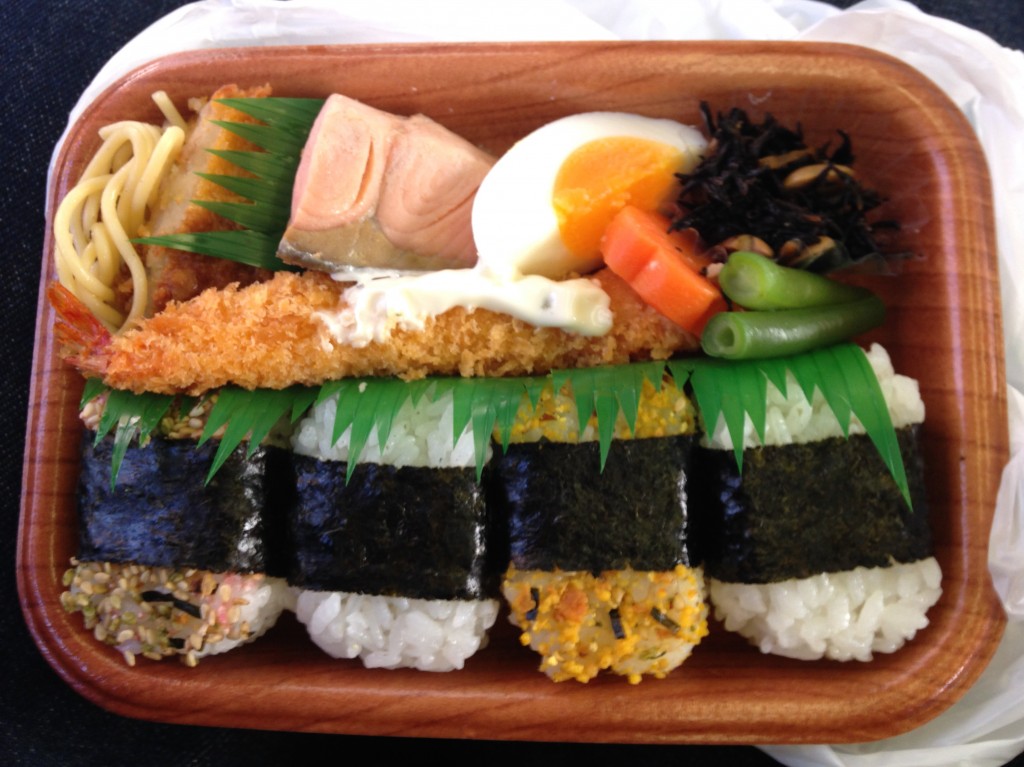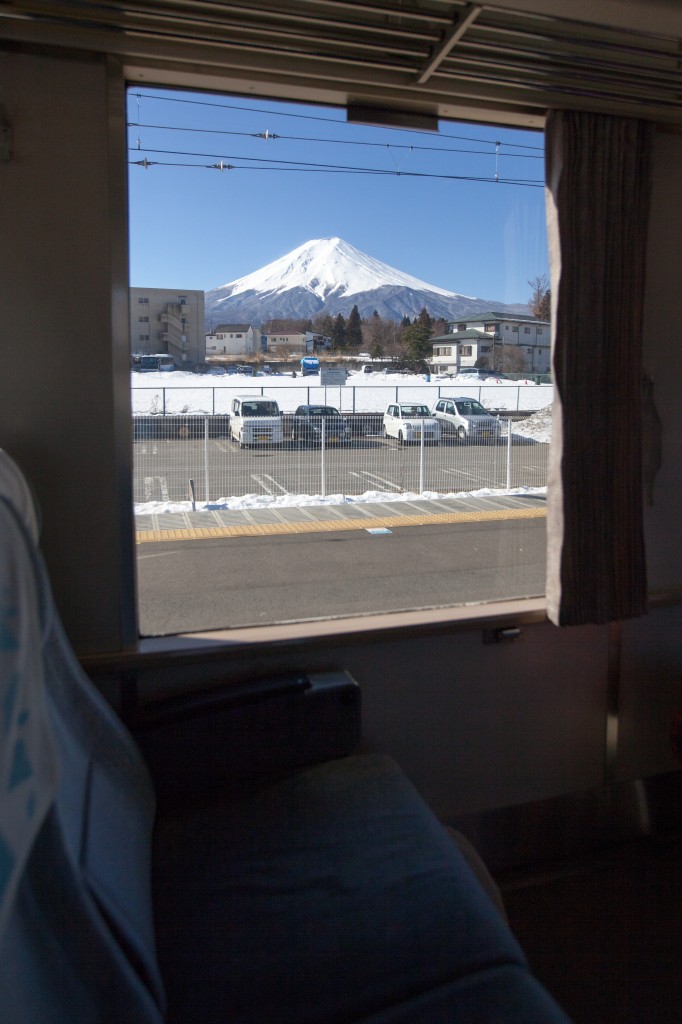 After a couple transfers, I arrived at Kawaguchiko station at 9:00 am. First thing I did was grab a two-day pass on the retro buses that circle the lake.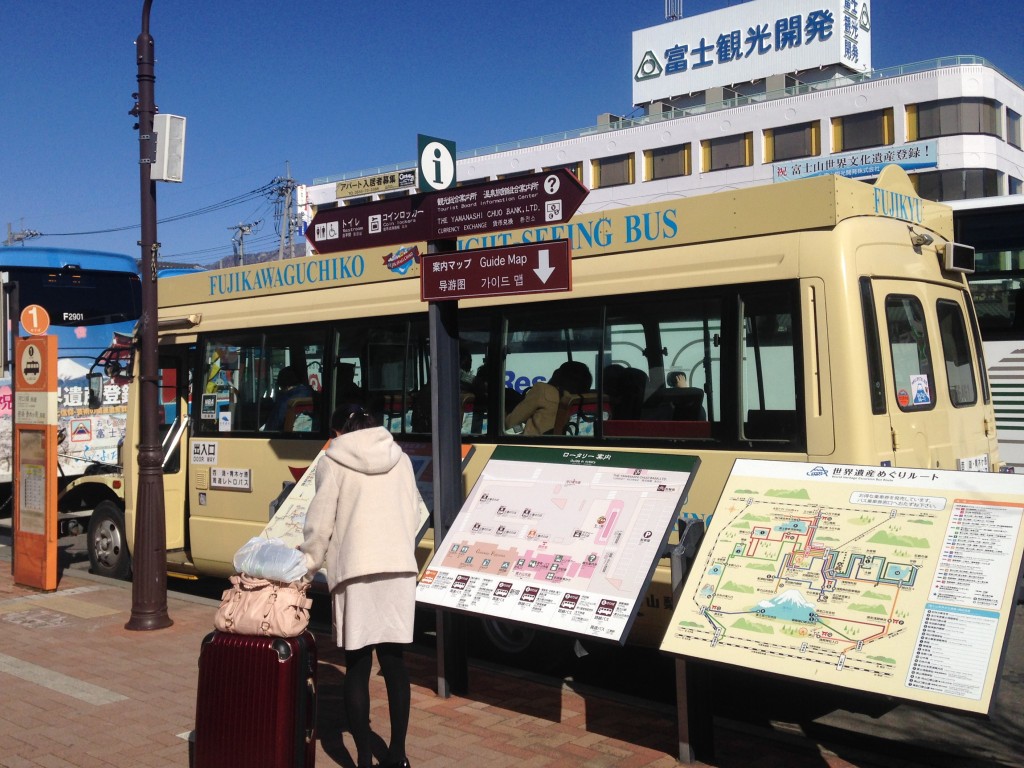 I didn't have a lot in mind when planning this trip, but I knew I wanted to see the Kachi Kachi ropeway, so I went there first. I got there at 9:45 am and while it was still early, there were plenty of people around. The cable car ride was short, but it provided great views of the town, Lake Kawaguchiko, and Mt. Fuji.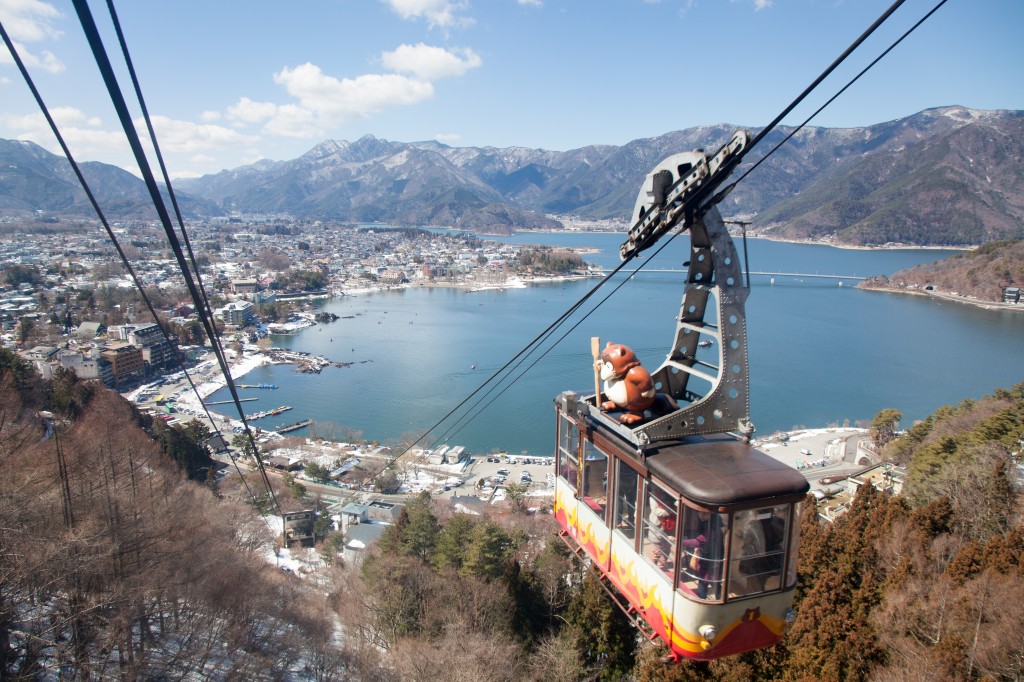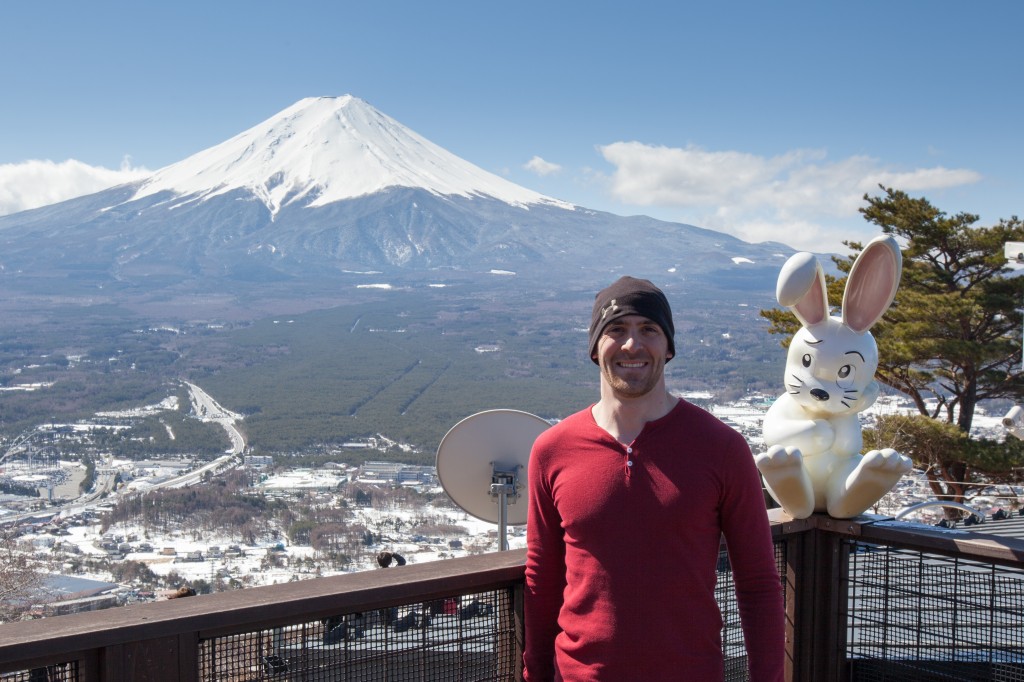 Wanting to get away from the crowds, I followed a short trail to an overlook.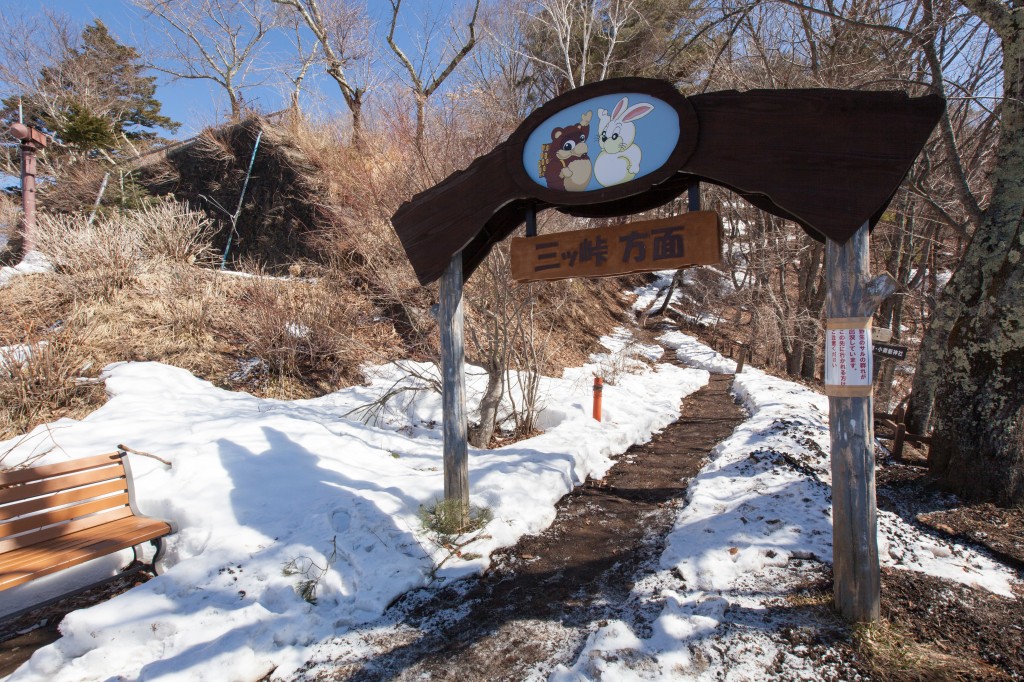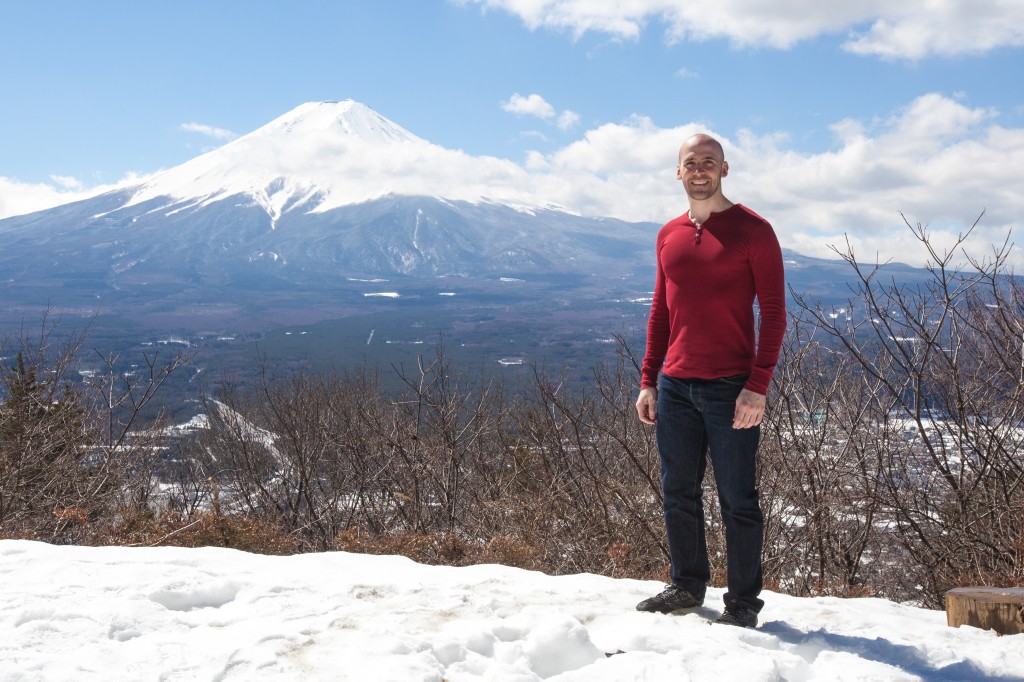 You've probably noticed the seemingly cute raccoon and bunny characters. They are based on a surprisingly violent Japanese fairy tale, simplified below:
A man and woman live together and own a vegetable patch. A raccoon starts stealing their vegetables, so the man catches it. The raccoon apologizes and cries for help but when the woman sets it free, it kills her.

The man was very angry and a rabbit offered to get revenge for the old man. The rabbit convinced the raccoon to carry some hay in exchange for a rice ball. When the raccoon carried the hay, the rabbit set the hay on fire, burning the raccoon.

The the rabbit appeared in a disguise and asked the raccoon if he wanted to go fishing. The rabbit built his boat out of wood, but convinced the raccoon to build his out of mud since he was heavier.

Out on the water, the raccoon's boat begins to sink and cries out for help. But the rabbit began to hack at the boat with it's paddle, and the raccoon eventually drowns. The man and rabbit live the rest of their days in peace.
All around the cable car area there were plenty of scenes from the story: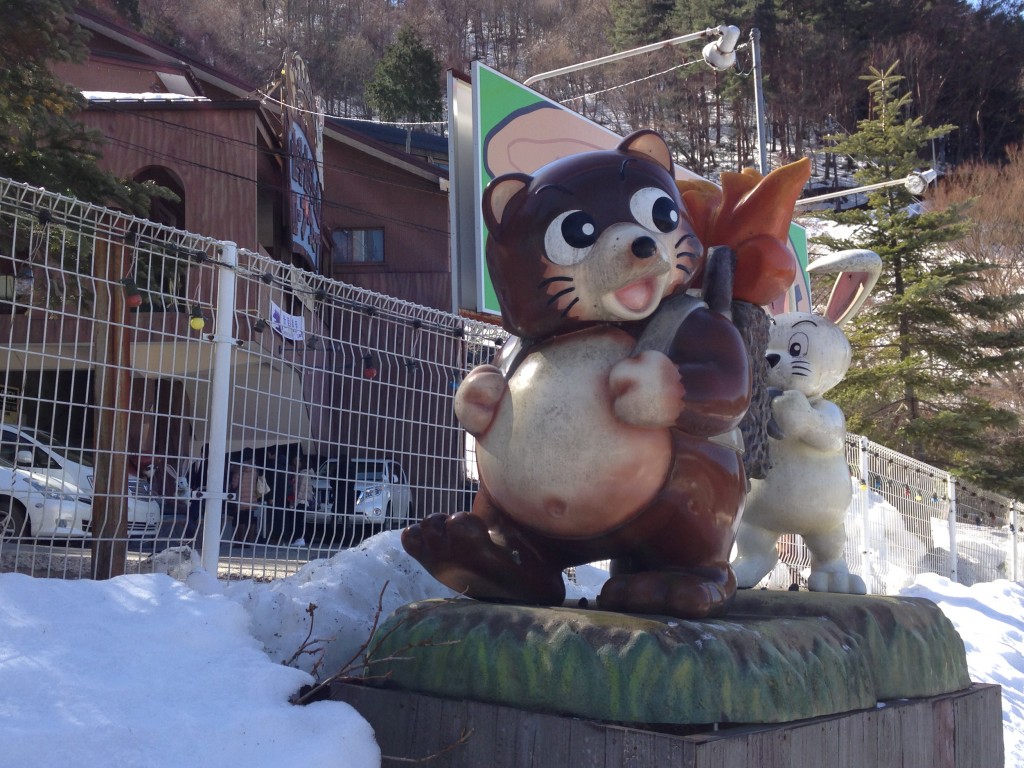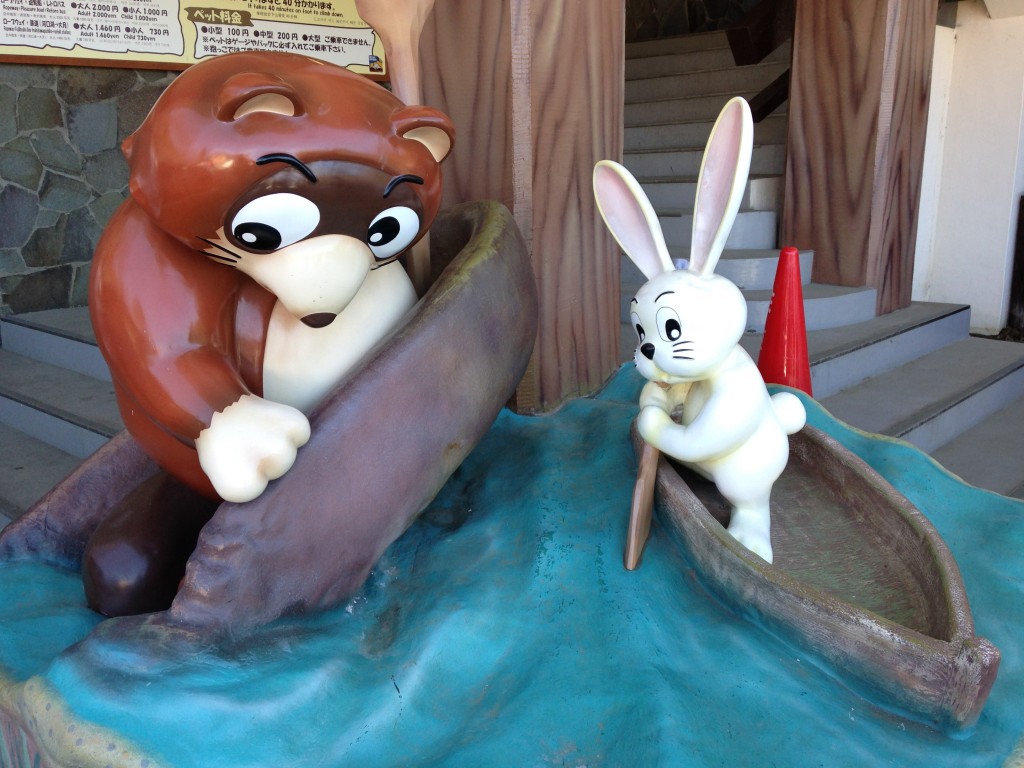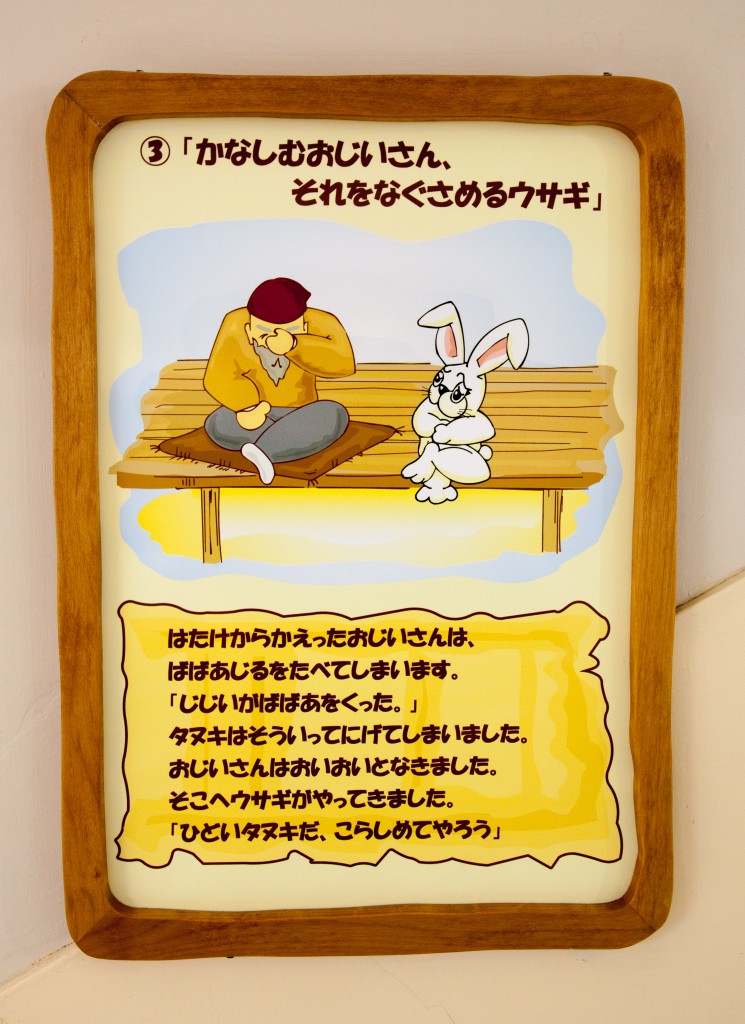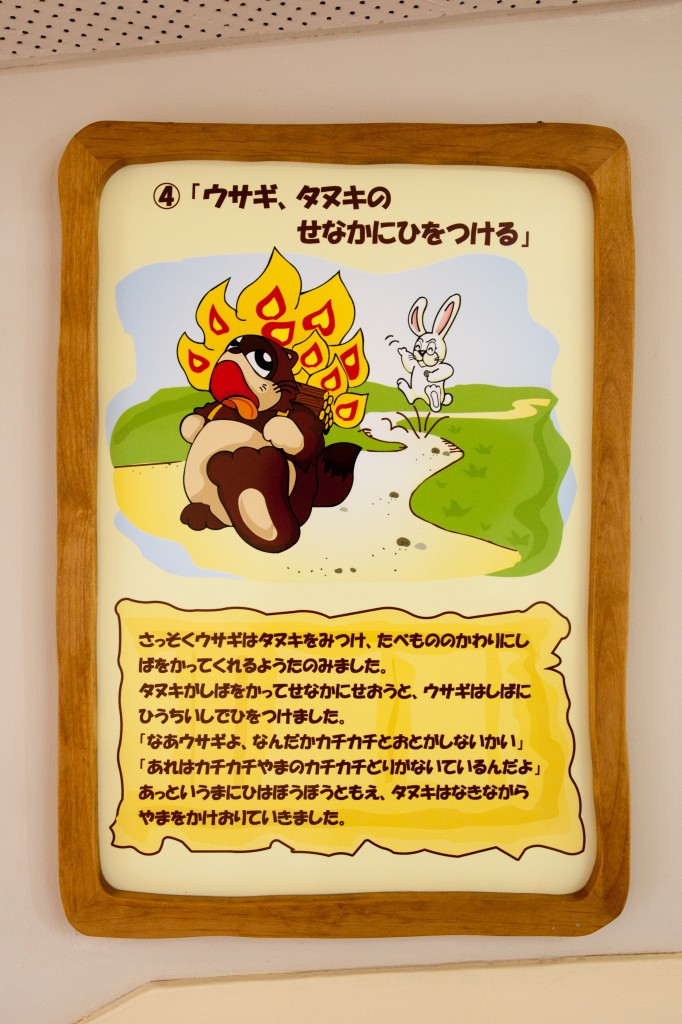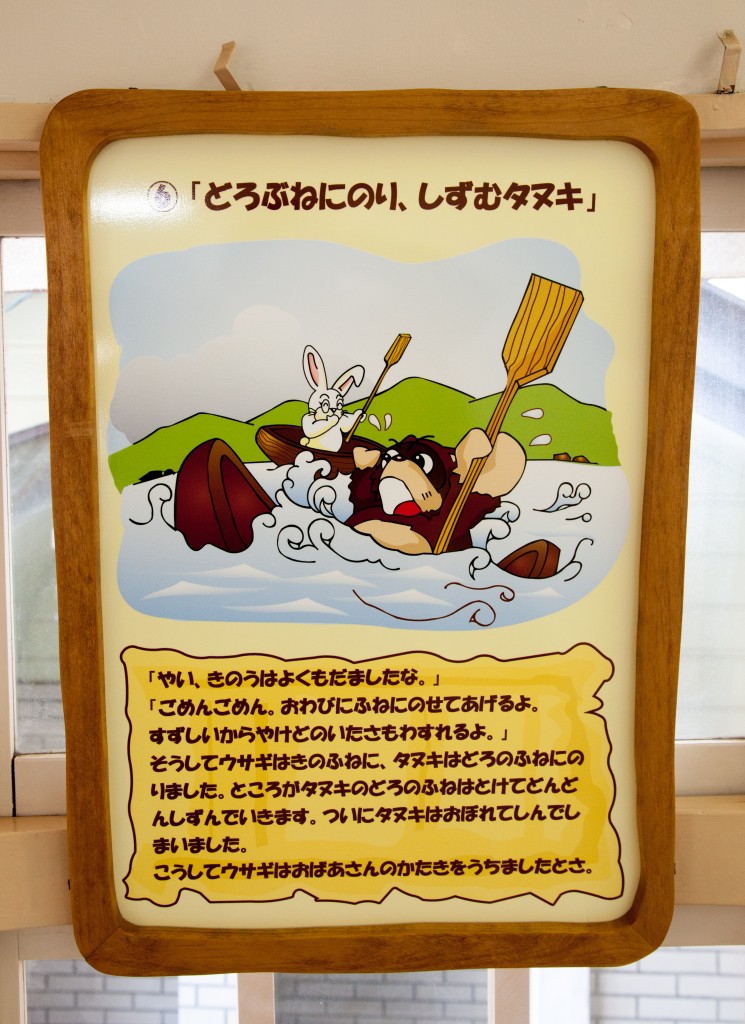 After the ropeway, I took the bus partway around the lake. I caught it in plenty of time, but it was packed full and standing room only. I walked trying to find somewhere to eat, but ended up going back to the station to get pick up my luggage and grabbed lunch there.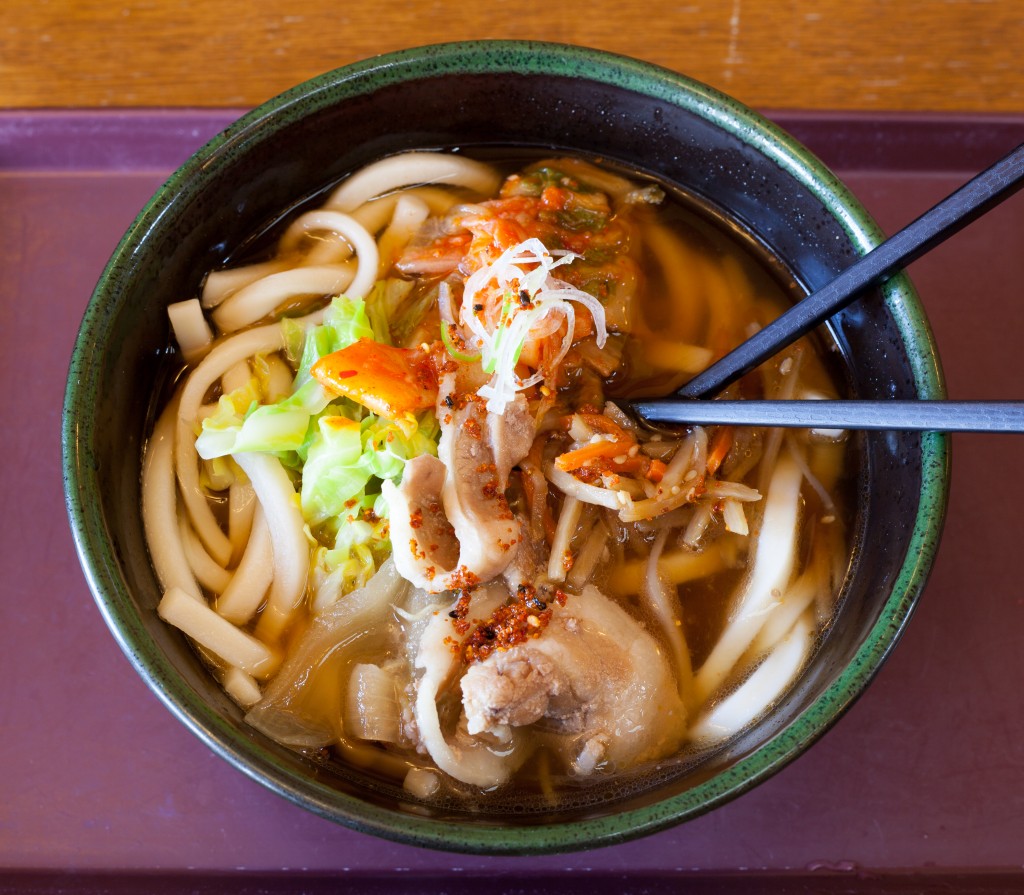 Tired of waiting on the bus, I checked into my hostel and then rented a bike.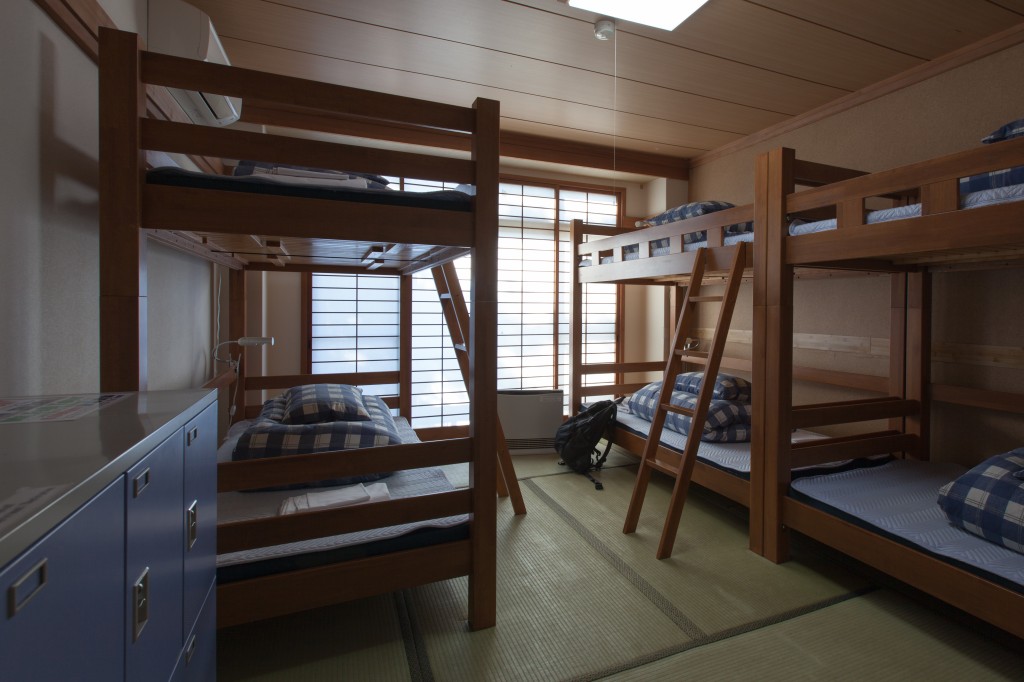 Within minutes I remembered how much I enjoyed renting bikes when I traveled around Europe. You cover much more distance than walking and you can take in the sights and local scenes better than on a bus or train. You also can get away from the crowds pretty quickly.
I started by crossing the bridge over Lake Kawaguchiko and then a found a small park used mostly by fisherman. As I turned the corner I saw a girl standing overlooking Mt. Fuji which looked to make a good picture.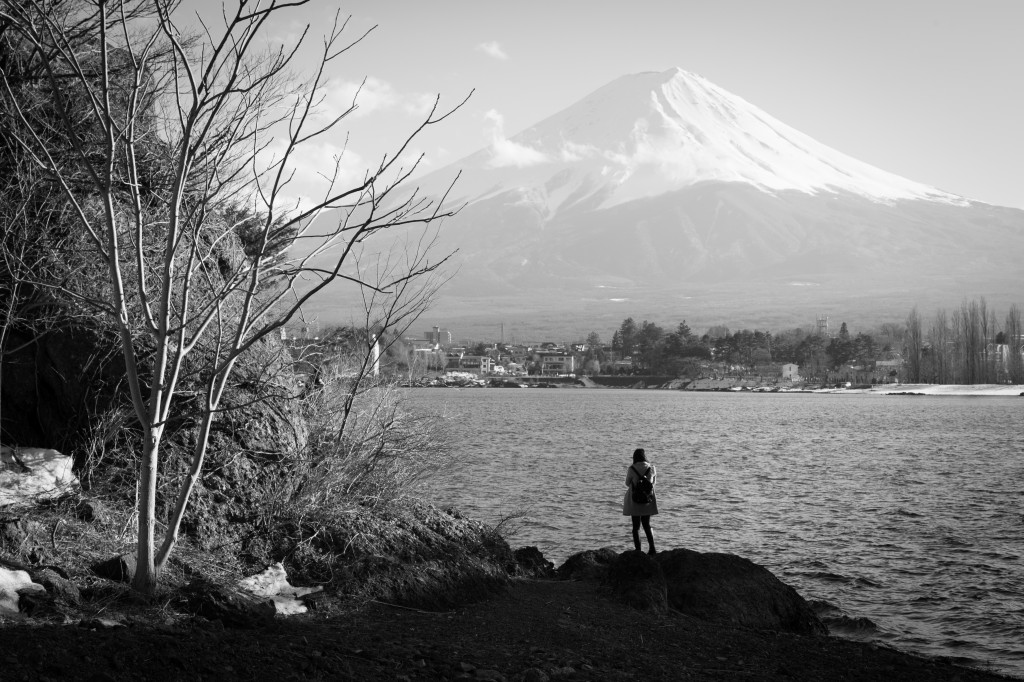 I went up and showed it to her, and she asked if I could send it to her so I got her email address and sent her a copy later.
I stuck around the lake until after sunset then went back to the hostel to charge my cell phone.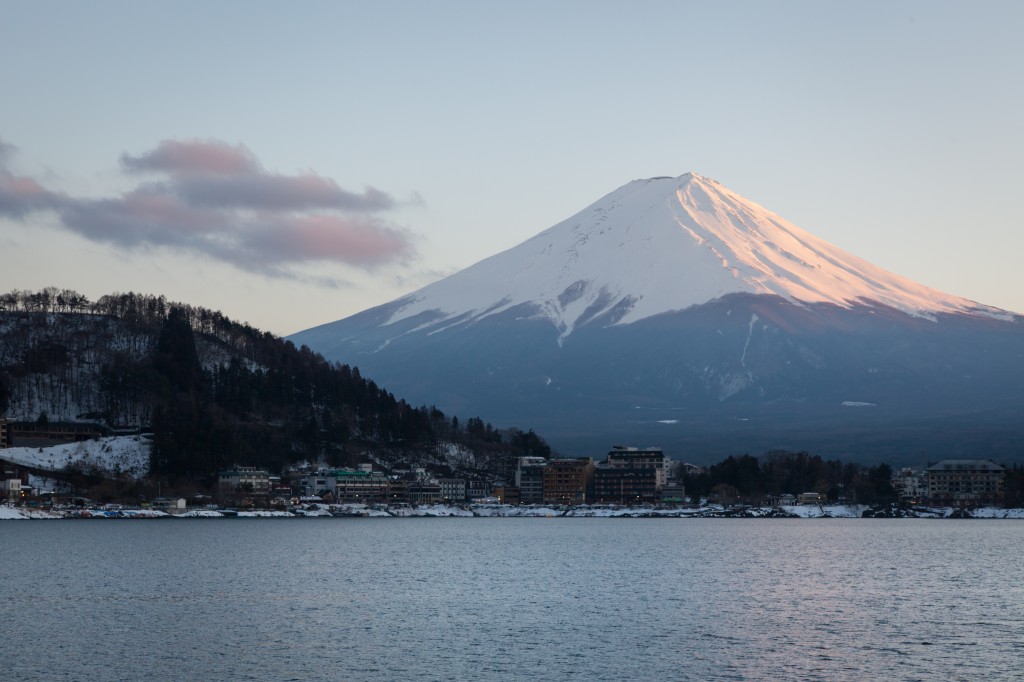 For dinner I took up the hostel's recommendation and visited a local restaurant.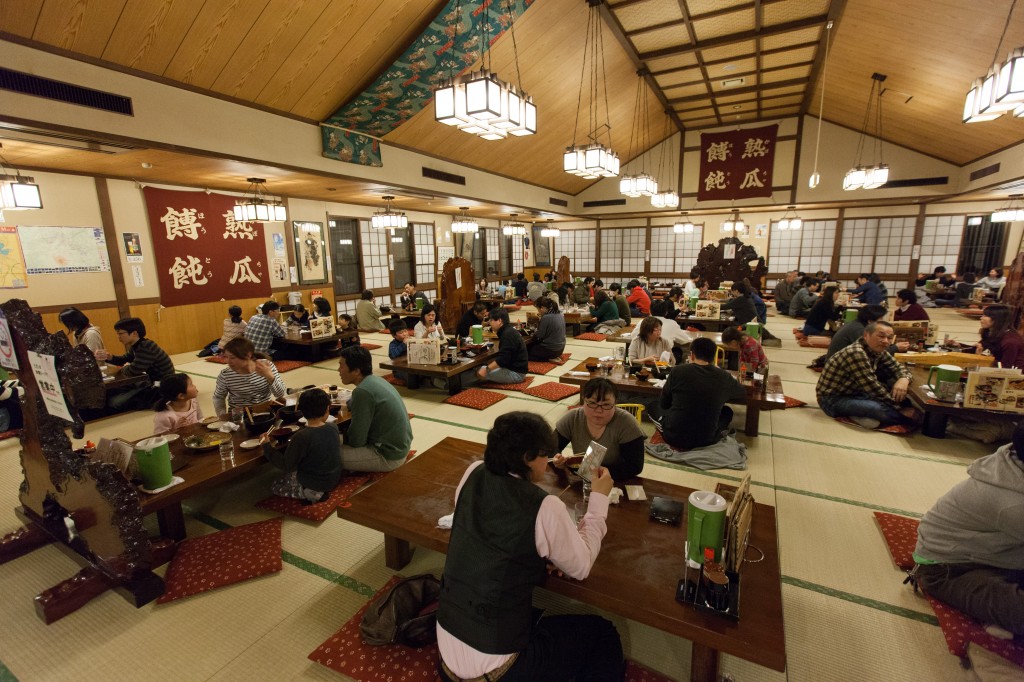 The menu had some interesting options including bear and roasted frog.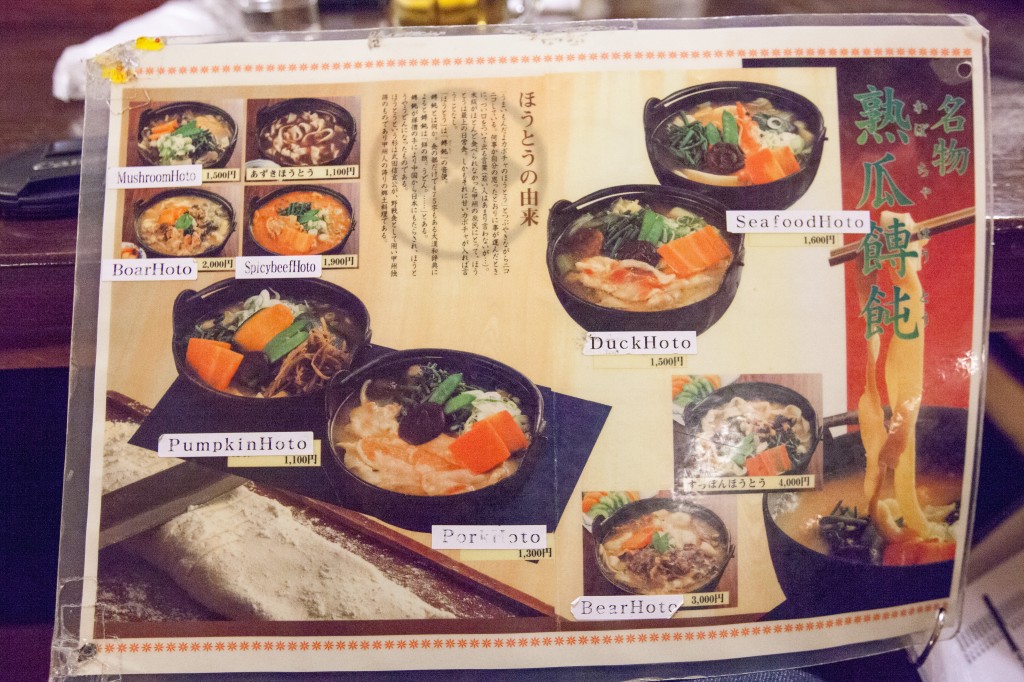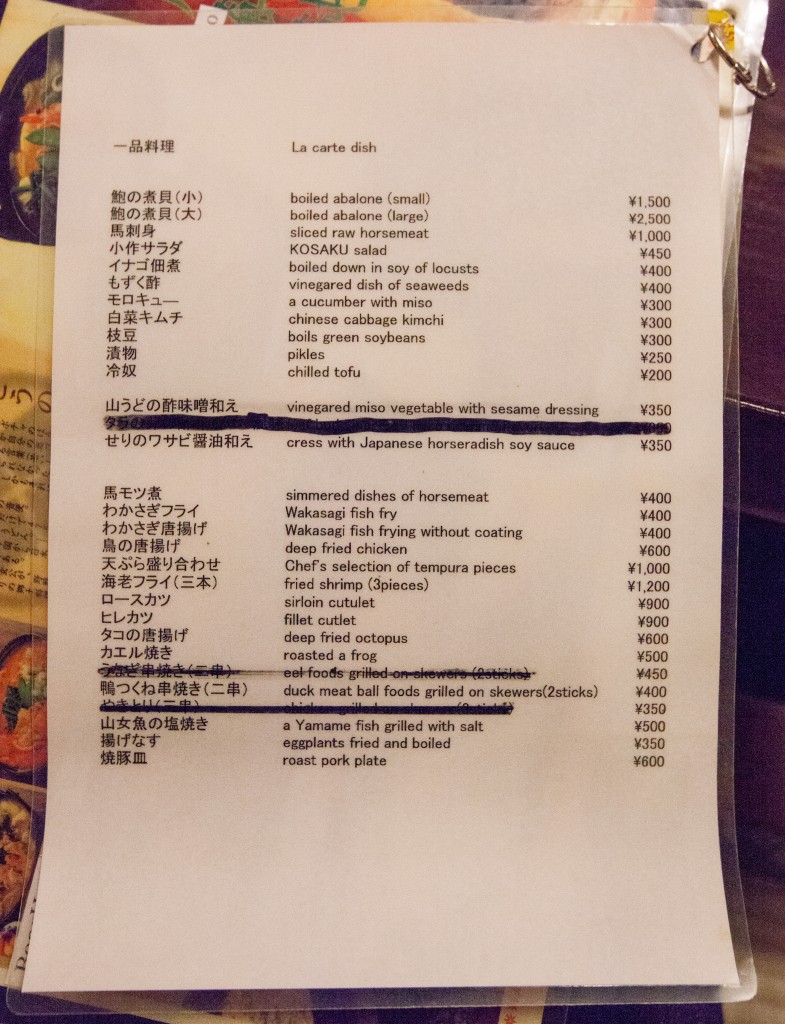 I decided to go with the sliced horse meat with onions and boar hoto noodle dish. I'm not someone who can describe culinary dishes with extreme detail, but I will say that I wouldn't order the horse again. Still on the search for the elusive whale and dolphin meat though.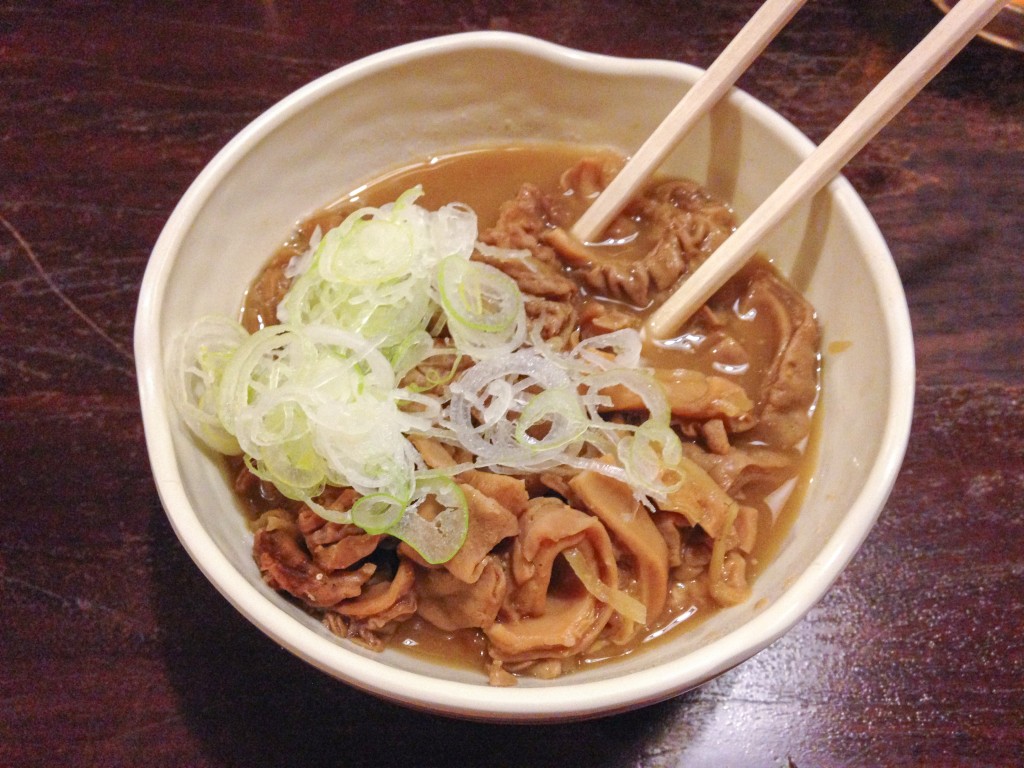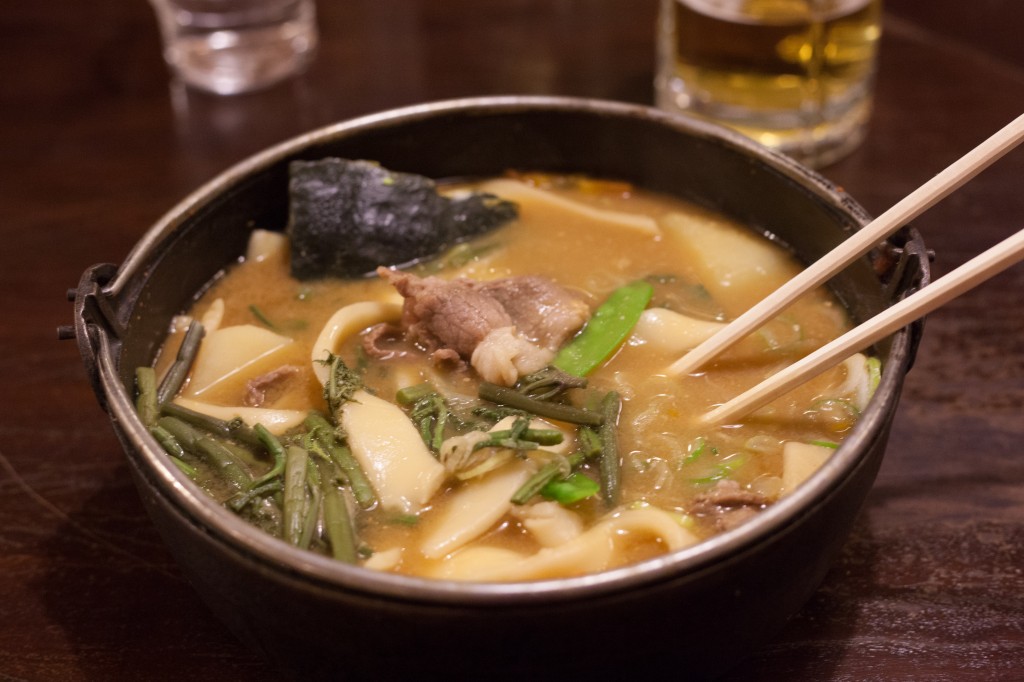 On Sunday I decided to sleep in. I normally would wake up early for a sunrise shot, but the weather was supposed to be cloudless, which doesn't make for very interesting sunrises. On top this, the sunrise is at 5:45 am and having woken up early the day before, I wasn't ready to do it again.
Instead, I left my hostel at 9:00 am. I took some pictures around the lake, but the magical lighting that occurs at sunrise was already 3 hours gone. Instead I found a roadside stand and got grilled corn and beef (brushed with a teriyaki-type sauce) for breakfast, but at 900 yen it wasn't a cheap breakfast.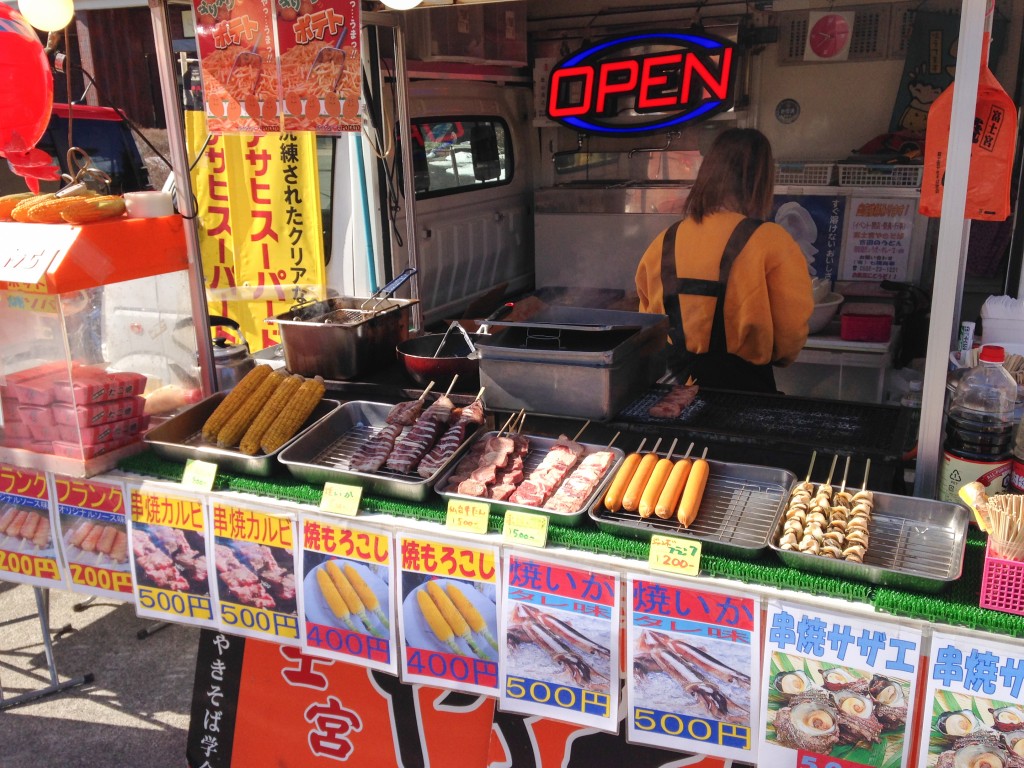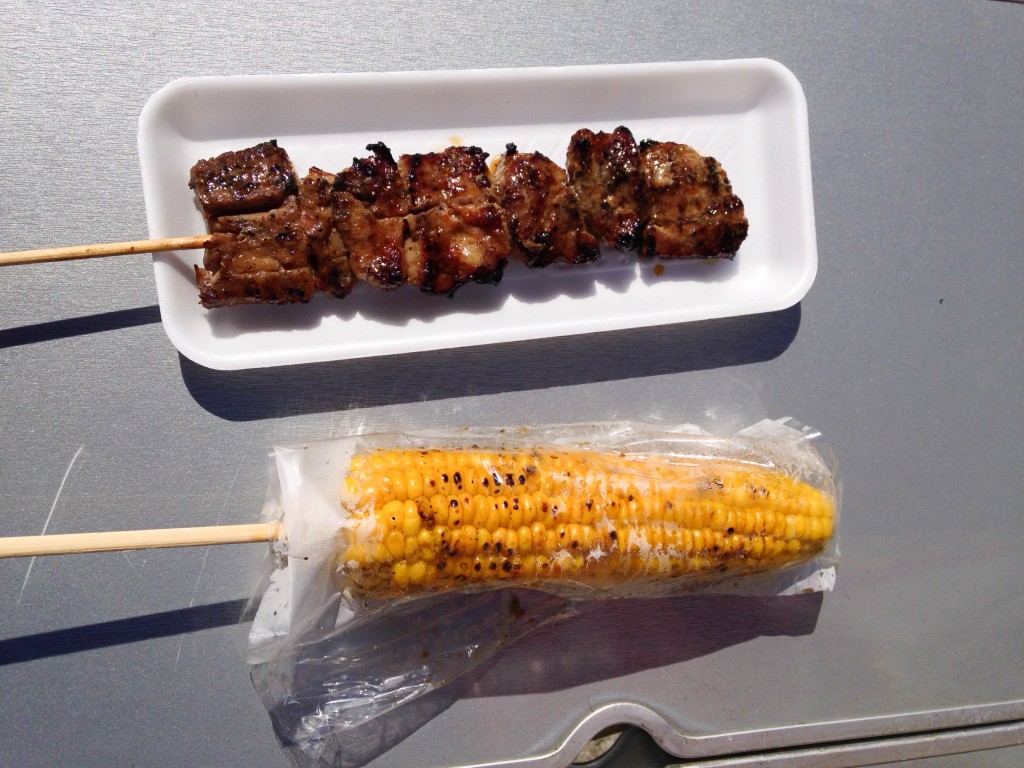 Around 11am, I decided to bike to Chureito Pagoda. It was about 3 miles away and took about 20 minutes thanks to being mostly downhill.
At the base, there is a large torii marking the entrance before you climb the 400 steps to the top. There's no fee to enter and it's open 24 hours a day.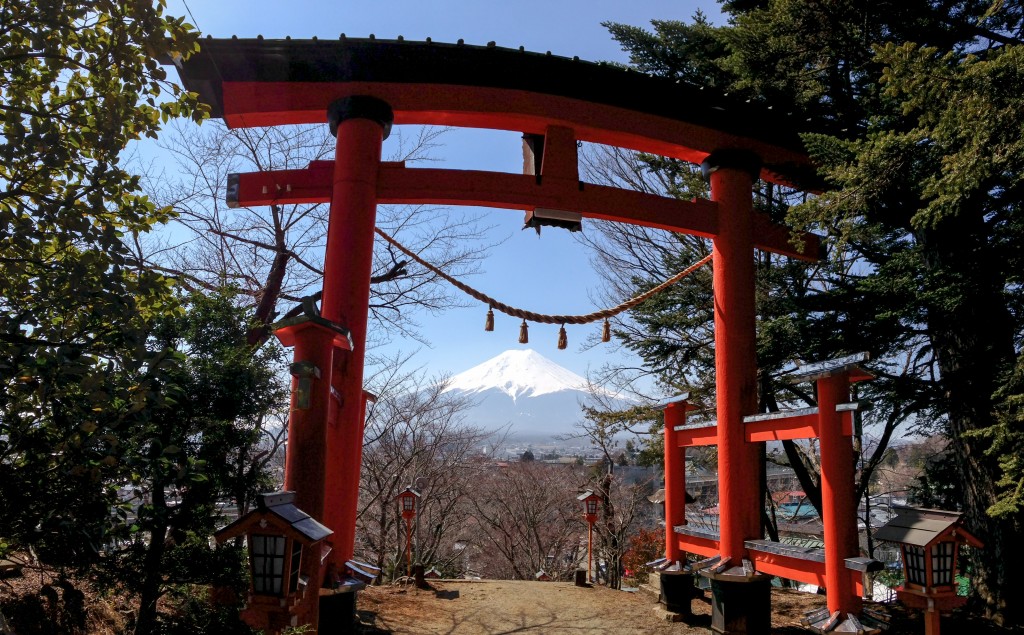 Riding back was a bit more challenging, but it wasn't so bad that I wouldn't do it again. There's also a train station near Chureito Pagoda for those who don't want to walk, drive, or take the train.
I got back to Kawaguchiko and decided to check out an Herb Museum. While the garden wasn't in bloom, there was still a nice area in the greenhouse. I got some lavender ice cream and relaxed for a while.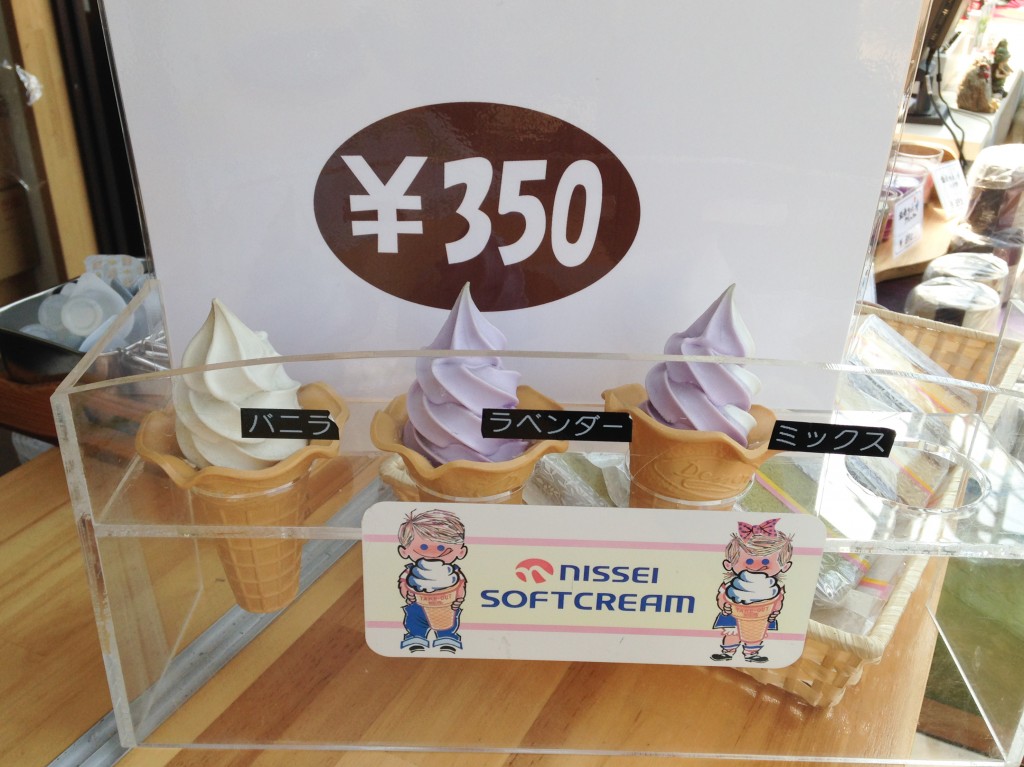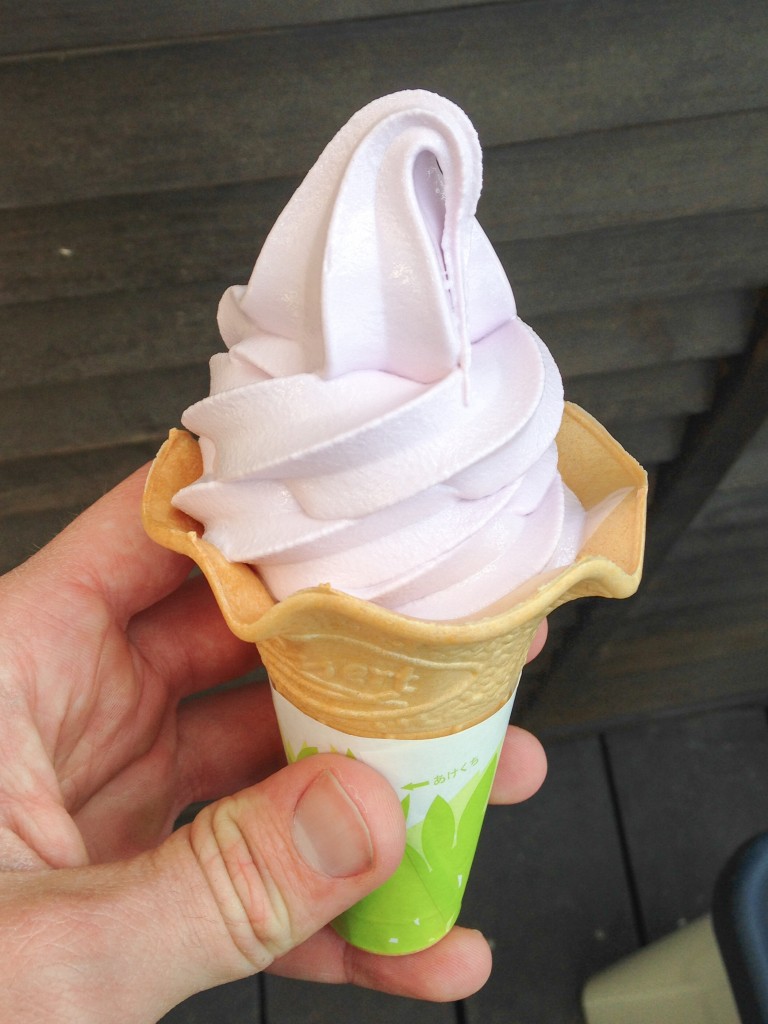 Looking at the weather and not wanting to get back late, I decided to skip the sunset and take a 4:00 pm train back to Higashi-Fussa.
I was lucky this weekend that the weather was so clear (I actually got a sunburn on my neck). A lot of people that come to Mt. Fuji can't see it from a distance because it's often covered by clouds. The best views are early in the morning, just after sunrise. Unfortunately, that means around 5:30 am. I didn't catch a sunrise this time, but I definitely want to catch one when I get back. I've heard it's the best time to see Mt. Fuji's reflection in the lake.
Looking back, I didn't get my money's worth from the bus pass. Next time I'll just rent a bicycle instead rather than waiting for a bus that only comes twice an hour. I'd much rather spend more money to save time.
I'm planning on returning to Mt. Fuji in a few weeks to see the cherry blossoms. They bloom a little bit later than in Tokyo so hopefully I can take another weekend trip to see them. I'm already starting to think about how to best catch the sunrise when I get back.
---
---